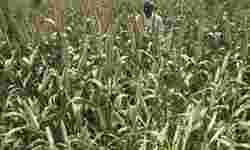 Statesman | 12 January 2023
Guyana offers 200 acres of land for exclusive production of millet
President of the Cooperative Republic of Guyana Mohamed Irfaan Ali today offered 200 acres of land in his country for exclusive cultivation and production of millets for the private sector in honour of the United Nations declaring the year 2023 as the International Year of Millet (IYOM).
The offer was made by Irfaan Ali to Union Agriculture and Farmers Welfare Minister Narendra Singh Tomar, who called on the visiting foreign dignitary this morning in New Delhi. He asked the Indian minister to send a team of experts to set up a millet farm in Guyana and promised all help in the production and promotion of millet in the Caribbean and Latin American countries.
Irfaan Ali also stated that he would be truly honoured, if Prime Minister Narendra Modi were to address the Conference of Heads of Government of the Caribbean Community (CARICOM) scheduled in February 2023 to present India's Vision on agriculture and food security.
He said that even a virtual address by Modi to 17 Heads of State would go a long way in promoting and popularising millets in the Caribbean countries. He also offered to organise a session with the Indian Agriculture minister for a talk on millet.
Tomar, in his remarks, said the International Year of Millets (IYOM) – 2023 would provide an opportunity to increase global production, efficient processing and better use of crop rotation and promote millets as a major component of the food basket.
Tomar said that on the initiative of Prime Minister Modi, the United Nations has declared 2023 as the International Year of Millet (IYOM).