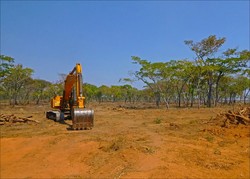 Lake Agro Industries
clears land
for cattle farming in August 2021.
KNBC | 20 July 2022
Kasanka Trust to commence contempt proceedings
Paul Shalala – The Lusaka High Court has granted leave to Kasanka Trust Limited to commence contempt proceedings against Lake Agro Industries and its directors for going ahead with agriculture activities near the Kasanka National Park in Chitambo District despite an injunction.
Kasanka Trust is an organization, which co-manages the Kasanka National Park with the Department of National Parks and Wildlife since 1987.
In an order made on Monday, High Court Judge CHARLES KAFUNDA granted Kasanka Trust and two plaintiffs leave after they applied to commence contempt proceedings.
The plaintiffs argued that on January 25, 2022, the Lusaka High Court granted an injunction against Lake Agro and Gulf Adventures to stop cutting trees and doing agriculture activities in the Kafinda Game Management area.
The plaintiffs further argued that the two firms and their directors ignored the court action and went on with their activities including planting wheat and collecting water from the Luombwa river.
In October last year, various stakeholders, including government regulators, opposed the establishment of a mixed agriculture project in the Kafinda Game Management Area in Chitambo District.
This was during a public hearing hosted by the Zambia Environmental Management Agency -ZEMA- .
At the hearing, it was learnt that Lake Agro Industries had gone ahead to plant wheat and other crops in the area despite not being authorised by ZEMA and the Water Resources Management Authority.