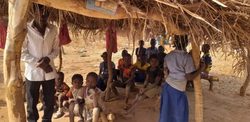 Villagers in Rukubi.
Daily Trust | 11 June 2022
10 years after: Pain, sorrow as host communities poise for showdown with Olam Farm

Communities in Rukubi, Doma Local Government Area of Nasarawa State, where Olam Rice Farm is located, have said they are in pain and sorrow due to the activities of the multi-national farming company.
Speaking with Daily Trust Saturday, the villagers said for anyone to feel the pulse of their pain, all that is required is a visit to their area where there would be much for the visitor to see and tell about their communities, especially in terms of farming.
Running mates: Atiku, Tinubu weigh options as camps push for contenders
Murderers of Fasoranti's daughter sentenced to death
But the company has denied all the allegations against it, insisting that its presence has rather improved the living conditions of the host communities through its numerous corporate social responsibility interventions.
Some agric and health experts have, however, called for proper investigation into the matter, saying that the host communities may not just be crying wolves.
Olam Farm, a subsidiary of Olam International, hosting one of the world's largest agricultural conglomerates, located about 60 kilometers from Doma, the headquarters of Doma Local Government, was established in 2012 as one of the largest rice farms in Africa through its Nigeria branch, Olam Nigeria Limited.
Sitting on 9,000 hectares of land, the US$90million investment of a Singapore-based foreign investor, reputed as Africa's largest rice farm, was officially commissioned by former President Goodluck Jonathan on July 14, 2014.
While the farm and the mill were expected to boost smallholder rice production in the region through a 'nucleus and out-grower farming model', the rice-growing communities were promised support by Olam, with training, pre-finance, agric inputs, and marketing links in order to improve their paddy yields, according to findings.
Venkataramani Srivathsan, Olam's managing director for Africa and the Middle East, was quoted as saying, "This mill, commissioned today by President Goodluck Ebele Jonathan, characterises three important aspects of Olam's commitment to the agricultural sector in Nigeria. Firstly, it demonstrates how large-scale corporate farms can work hand-in-hand with smallholders to help advance Nigeria's agricultural transformation agenda and generate rural prosperity through local processing.
"Secondly, it underlines the country's ability to grow high quality, nutritious rice that can enhance domestic food security by providing an alternative to imports.
"Thirdly, as Olam kicks off its 25th-anniversary celebrations this month, this investment is a testament to our ongoing commitment to Nigeria, the country where Olam was founded."
The coming of Olam was, therefore, viewed as a blessing by the seven host communities, who were said to have provided land and welcomed the company for taking the bold step in rice cultivation and processing in their locality in order to meet the huge demands and consumption in the country.
'Our pain, sorrow'
But 10 years after its establishment in Nasarawa State, Olam's host communities have tales of lamentation. Apart from its failure to carry out its corporate social responsibility, the communities allege that the chemicals used by Olam on its rice farms were impacting them negatively. They also said hunger brought about as a result of Olam's presence had forced wives to separate from their husbands to other parts of the country in search of survival.
Samuel Kaura, a 46-year-old man at Kpakwo-Bassa village, said they had been recording low yields from their farms for the past eight years due to the activities of Olam.
"Before the coming of Olam, I used to get a good harvest from planting yam, millet, and guinea corn, but all that is no more due to their chemicals, which are damaging our crops.
"The chemicals also cause us stomach pains, skin irritation, and other health hazards. Our children are also affected. By the end of the day, they would come with miserable amounts (from N1,500 to N2,000) as compensation for the destruction of our farms. And when we complain, they would say the government had given them the freedom to operate," Kaura said, adding that if nothing was done to stop Olam, they would be forced to also destroy their farms.
Speaking in the same vein, Nasiru Elafiku, a 35-year-old farmer in a village called Abuja Ogoh, said Olam's chemicals made it impossible for his maize, millet, and rice grains to produce.
"Before their arrival, I used to harvest from 30 to 50 bags, but now, there's no harvest. The youth are migrating from this community to other parts of the country to survive," Elafiku said.
Ismail Ahmadu, a 46-year indigene of Abuja Ogoh, one of the host communities, said he used to plant yam, maize, guinea corn, and millet on a large scale, but with the coming of Olam he abandoned farming in his community and relocated to Ibadan to farm.
"The crops I planted in Ibadan are doing quite well, I only visited my community to see my family," Ahmadu said.
Elsewhere in Ondorie community, Ogoshi Francis, who cultivates yam, maize, melon, groundnuts and beniseed, said that on a yearly basis, Olam usually issued instructions to farmers in their community to halt their farming activities and wait until Olam is done with theirs.
Another Ondorie-based farmer, Oboh Ngbede said, "Olam's chemicals have completely destroyed my maize farm, leaving my family without food. We now travel to Doma to buy grains. We have fertile lands but we don't farm."
Earnest Inuwa, a youth leader in Ondorie community, said they had been enduring the problems brought by Olam Farm for a very long time.
"We have complained to our elders and the state government but nothing has been done. We are even regretting their presence in our community. Even when they decide to pay compensation, it is usually infinitesimal; not more than N1,000 or N2,000," Inuwa said, adding that the youth in the affected communities may be forced to take the law into their hands.
'How hardship separated our wives from their husbands'

"What God has joined together, let no man put asunder," so says the Bible. But this timeless injunction appears not to hold water within the host communities of Olam as the villagers have also alleged that the pain and sorrow brought about by the company have led to the separation of wives from their husbands.
Dagboyi Angbna, an Ondorie farmer said, "Our wives have all run away because of hunger. Even when our women go to scavenge on remnants of rice from their farms after harvest, they are beaten up by Olam's security soldiers. In fact, our wives are running away from us because they (Olam) are making them miserable."
Halima Mohammed, a 25-year-old housewife, said her husband had also left her because he could no longer cater to the family due to hardship brought about by Olam.
Sunday Okunase, the village head of Ondorie community, said over 100 wives from his domain had left their husbands in search of daily bread elsewhere across the country.
"Our wives have deserted us and moved to places like Kaduna, Lagos, Ibadan and Port Harcourt in search of menial jobs for survival," Okunase said, adding that some men also left their wives for the same reason.
He said all the relevant authorities, including the Nasarawa State Government, were informed about the problems they were facing due to the activities of Olam, but nothing was done about it.
Ekka Egashi, the chairman of the committee that interfaces with the host communities, confirmed that the committee had received complaints from some of the villages and passed the same to Olam.
In the same vein, the Osakpa Akpanaja, Musa Abari Agye, who oversees the host communities, said the issues were tabled before the Andoma of Doma, who set up a committee headed by him, to look into the complaints.
"My committee carried out its assignment and produced a report. A white paper committee was also put in place and is expected to submit its report to the state government any time soon," the Osakpa said.
We've done a lot for the host communities – Olam
Olam Farm has, however, debunked all the allegations made by the host communities, insisting that they all benefitted from its corporate social responsibility interventions.
Umaru Ismaila, the chief agronomist at Olam Agric Farm, Rukubi, said that apart from providing some basic infrastructure such as access roads, boreholes and solar light, students from the host communities had enjoyed scholarships provided by them.
"Apart from constructing a block of three classrooms in Government Secondary School, Rukubi, Olam also employed three graduates as teachers there," he said.
He said approval had been given for Olam to establish a junior secondary school in Ondorie, where learning activities are expected to start by September this year.
"Also, since 2014, we have given scholarships to qualified students in higher institutions from the seven host communities. Our corporate social responsibility is based on need, we don't give cash," Ismaila said.
He also said Olam had provided boreholes to the host communities, namely: Rukubi, Ijiwo, Ondorie, Obendo, Bassa, Olegokpa and Achepe, adding that the company had constructed access roads to some of the communities in addition to providing solar light to six host communities.
"In 2019, four communities – Obendo, Ijiwo, Olegokpa and Achepe – were submerged by flooding and we came to their rescue by evacuating the affected victims. They were taken to a safe place at Rukubi.
"Also, during the COVID-19 pandemic, we provided host communities and schools with hand-washing tools and protective wears," he added.
On the alleged use of helicopter to spray chemicals that destroy the villagers' crops, Ismaila said although it was impossible to manually spray chemicals on its farm, currently measuring 4,400 hectares, Olam was conscious of the possible damage of its chemicals; hence they use drones on its farms that are close to those of farmers within the host communities.
Don't take host communities' complaints for granted – Experts
A founding member of the Network of Africa Scientists for Biosafety, Biodiversity and Health, Dr Casmir Ifeanyi, said complaints by the Olam Farm's host communities should not be taken for granted.
He said, "The truth, which is incontrovertible from scientific evidence, is that the unbridled use of chemicals for the control of weeds and pests in agriculture is a menace to the environment, our biodiversity, and also a gross breach of biosafety standard and regulation.
"So we are concerned that even when some chemicals have been incriminated and described as being potentially carcinogenic, they are still being used in Nigeria for agricultural purposes, most times in an uncontrolled manner."
He said the Network recently convened in Nairobi, Kenya and took a holistic look at what is happening with the indiscriminate use of chemicals, most of which have been banned for use in Europe and America for more than two decades, saying, "However, the dumping place has become Africa, and of late, Nigeria.
"There are protocols and code of conduct that guide how such chemicals are used. But when multinationals come here, some of them take for granted, the fact that there are laws but they are not obeyed. The rice farm must be called to order to follow the normal protocols on the use of these chemicals
"So, if the community you referred to is beginning to raise the alarm, it is important that the Federal Ministry of Agriculture, Federal Ministry of Environment and the Federal Ministry of Health should adopt a multi-sectorial approach that would investigate the immediate and potential long term impact of the use of these chemicals as alleged by the community."
Professor Salihu A. Dadari of the Department of Agronomy, ABU Zaria, said the wrong application of the chemicals could have a negative impact as alleged by farmers in the host communities.
"There is the need to follow the procedures. If there is a wrong or overdose in the application of the chemicals, crops would certainly die. Some of these multi-national companies don't care after maximising profit. I will, therefore, advise the host communities to sue the company for damages," Sumaila said.
Nasarawa govt keeps mum
Attempts to speak with the Nasarawa State Government on the matter did not yield fruitful results as one of the media aides of the governor, Yakubu Lamai, with whom our reporter was asked to liaise for a response failed to oblige.
When contacted, Lamai initially insisted on knowing the position of Olam Farm on the issues. When reminded after a week of the need to get a response before going to press, Lamai promised to get back to our reporter but never did, and failed to respond to calls thereafter.