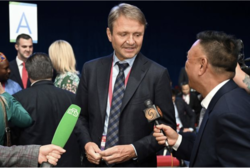 Alexander Tkachev, a former Russian agriculture minister, heads a family company that Ukrainian grain growers say has taken control of hundreds of thousands of acres of their land. (Photo: Dmitry Azarov/Kommersant/Sipa/AP)
Wall Street Journal | 6 December 2022

Russian oligarch seizes 400,000 acres of Ukrainian farmland, owners say

By Alistair MacDonald and Oksana Pyrozhok
The Ukrainian firms say that his company, Agrocomplex, seized the rights to some 400,000 acres, becoming one of largest farm operators in Ukraine. Ukraine's military and civilian intelligence agencies and its public prosecutors' office are investigating the alleged expropriation, according to documents reviewed by The Wall Street Journal.
In the area of eastern Ukraine that Russia's military occupies, Russia has moved to consolidate control, pushing its currency and school curriculum onto the local populace. At the same time, politically connected Russian oligarchs and companies have quietly moved into the newly occupied territories to make money.
"Russia is taking over the economy in occupied territories and using that control to help control the whole area," said Dmitry Skorniakov, chief executive of Ukrainian agricultural company HarvEast Holding.
HarvEast land became the focus of a feud in May between armed groups, including one from the Russia-backed local administration and one from Agrocomplex, Mr. Skorniakov said farm workers told him. They described shots being fired in the air.
In the end, the workers told Mr. Skorniakov, HarvEast's land was split into three tranches, with 100,000 owned or rented acres in Donetsk province handed over to Agrocomplex.
Another Ukraine farming company, Nibulon Ltd., has lost 50,000 acres to land seizures, according to its chief executive, Andriy Vadaturskyy. He said he believes that Agrocomplex now farms this land.
A third Ukrainian company, Agroton Public Ltd., accused Agrocomplex of taking 250,000 acres.
Agrocomplex didn't return repeated emails and calls seeking comment. Mr. Tkachev couldn't be reached.
Land seizures threaten to put a large portion of one of the world's biggest grain harvests under Russian control. The moves stand to increase Moscow's global economic leverage, particularly in developing nations that have long relied on Ukrainian and Russian grain production for food.
Kremlin spokesman Dmitry Peskov said in a telephone press conference in October that assets in regions where Russia has taken control could be transferred to Russian jurisdiction. The Kremlin press service said in an emailed response to questions that eastern Ukrainian regions now are part of Russia. Farm owners can claim their rights according to the laws of Russia, it said.
The taking of farmland—as described by Ukrainian intelligence, executives at agriculture companies and workers who said they witnessed it—began soon after Moscow established local civil administrations in occupied parts of eastern Ukraine and has unfolded in a consistent, systematic way.
First to lose their land were owners who served in Ukraine's military or civil service and owners who lived outside of the region.
The initial step was a visit from officials connected to the Donetsk People's Republic or the Luhansk People's Republic—proxy statelets established when a Russia-backed separatist movement took control of some areas of Ukraine in 2014. Starting around March, invading Russian forces expanded those proxy statelets, which Moscow has since declared to be part of Russia.
Donetsk and Luhansk officials, sometimes in groups carrying guns, would visit local farms with a message: They were in charge now.
In some cases, farmers were threatened if they didn't continue working. Representatives of the occupation government coerced Ukrainian landowners, sometimes at gunpoint, to rewrite contracts, including ownership deeds, to conform with Russian, not Ukrainian, law, said those familiar with the process.

In certain instances, landowners were allowed to keep their farms, but new contracts stipulated that 70% of the harvest would go to Russia or to Donetsk People's Republic or Luhansk People's Republic authorities.
On other farms, land was re-registered, sometimes bundled with other operations nearby.
The Ukrainian companies and farmers that had land and farm equipment taken haven't been compensated, they say.
A representative for the Donetsk People's Republic couldn't be reached for comment. An official of the Luhansk People's Republic said by email that there had been no land expropriation.
A big chunk of the land at issue now is being farmed by Agrocomplex, according to Ukrainian intelligence and Ukrainian farm owners. The company has been involved in ensuring Russia's "control over agricultural production," Ukrainian military intelligence said in a document reviewed by the Journal.
Agrocomplex's corporate documents list Mr. Tkachev as a director and chairman of the annual shareholders' meeting. He is described as chairman of the board and the company's beneficial owner in accounts filed with SPARK-Interfax, a Russian corporate data company.
A member of Russia's business and political elite, Mr. Tkachev has frequently been photographed with Russian President Vladimir Putin, particularly when Russia prepared to host the 2014 Winter Olympics in Sochi, in a region Mr. Tkachev then governed.
After serving as governor of Russia's Krasnodar province, Mr. Tkachev was Russia's minister of agriculture from 2015 to 2018. In Moscow, his wealth was notable even among the political elite, said Alexandra Pokopenko, a former adviser to the Bank of Russia.
Through Agrocomplex, Mr. Tkachev owns a large, turreted holiday villa and outbuildings on the Black Sea coast, according to local activists who protested its construction inside a conservation area. It is in a region that houses the dachas of several leading members of the Russian establishment. In Georgia, according to the local press there, Mr. Tkachev owns the onetime holiday home of Lavrentiy Beria, who ran Stalin's secret police.
Mr. Tkachev's wife founded a large vineyard in Krasnodar province, complete with a giant mock French château, according to SPARK-Interfax. In a video on the vineyard's website, Mr. Tkachev is seen toasting guests who include Moscow celebrities at an event in which female dancers rub grapes over themselves.
The European Union, U.K. and Australia sanctioned Mr. Tkachev in 2014 for what they said was his support of the Russian annexation of Ukraine's Crimea region. The U.S. hasn't sanctioned him.
While he was in government and head of Agrocomplex, Mr. Tkachev's family company became a field-to-shelf food giant producing and processing grain, livestock and dairy products for sale in Russia and parts of Europe where it is sanctioned. It tripled its land holdings over the period. Agrocomplex now controls more than two million acres of farmland in Russia, said BEFL, a Russian corporate advisory. That is in addition to the land it is alleged to have stolen in Ukraine.
Its holdings in Russia, equal to almost twice the size of the U.S. state of Delaware, make Agrocomplex that country's third-largest farmland owner. It reported revenue equivalent to about $1.16 billion last year. Its full name is "JSC Agrocomplex Named After N.I. Tkachev," a reference to its founder, Alexander Tkachev's father.
Agrocomplex has followed in the wake of Russian soldiers before. After Russia annexed Crimea, an Agrocomplex affiliate bought a Crimean agricultural enterprise once owned by a Ukrainian business rival. Mr. Putin has praised Agrocomplex's work in Crimea, singling out one of its investments at a forum in St. Petersburg last year.
Ukrainian businessman Yuriy Zhuravlev, chief executive and majority shareholder of the publicly held farming company Agroton, said that in May, he took a call from a man who identified himself as the agriculture minister of the Luhansk People's Republic. It had laid claim to civil administration in Luhansk, and the caller told Mr. Zhuravlev that Agroton wasn't registered there.
Mr. Zhuravlev said the caller told him that 250,000 acres Agroton owned or rented in Luhansk now belonged to Agrocomplex. About 350,000 metric tons of wheat and sunflower seeds, including both stored and crops in the ground, were also taken, Mr. Zhuravlev said.
"They wanted to rob the enterprise," he said.

A few days later came more bad news. Mr. Zhuravlev said he obtained a document showing that a man named Alexei Melniko v had registered himself and a new company, Luhansk Agro-Industrial Company LLC, as operator of the farmland.
Mr. Melnikov was an official in Russia's Krasnodar province when Mr. Tkachev governed it, according to press reports at the time. On May 17, Mr. Melnikov registered himself and the new company as a taxpayer in Luhansk, a tax registration document shows.
Two days later, Mr. Melnikov sat down for a meeting with the general director of Agrocomplex and the Luhansk People's Republic's agriculture minister, according to Ukraine's domestic intelligence service, known as the SBU. The agency described the meeting in a Nov. 3 letter to Mr. Melnikov informing him he was under investigation for alleged war crimes and participation in organized crime.
A few days after the meeting, a Luhansk People's Republic official asked Russia's deputy prime minister for a permit for Agrocomplex to work in Luhansk, the SBU said. Mr. Melnikov couldn't be reached for comment. He said in a TV interview in July that he was buying wheat from local farmland that had been abandoned.
Back at Agroton, four officials paid a visit as part of a group with guns that threatened to kill managers who refused to work with them, Mr. Zhuravlev said he was told by farm workers.
He said the party included Valery Pakhnyts, a Luhansk People's Republic official. The U.S. government sanctioned Mr. Pakhnyts in September, alleging that he oversaw the theft of Ukrainian grain.
Mr. Pakhnyts said by email there was no land expropriation. He said that operating on farmland is secured by registration with the state, which any legal entity can do. He said Russian companies weren't involved.
"The information that some groups moved around and inspected farmlands does not correspond to reality," Mr. Pakhnyts said.
According to Mr. Zhuravlev, the farm visitors also included a Crimean official named Pavlo Kharlamov. Mr. Kharlamov said in an interview that he had an indirect role in uniting agricultural assets on behalf of the Luhansk People's Republic.
Differing with Mr. Pakhnyts, he said that Russian companies were involved in the process. He said that farmland wasn't being expropriated because it already belonged to the people of Luhansk. He denied that weapons were involved.
In July, a fleet of combine harvesters bearing the Agrocomplex logo showed up on Agroton's land and began harvesting the wheat crop Agroton had planted, farm workers told Mr. Zhuravlev.
The following month, employees of Agroton and Nibulon, along with landowners from whom the Ukrainian firms rented land, were invited to a presentation in the city of Bilovodsk in Luhansk. In a hall called the House of Culture, an executive who said she worked with Agrocomplex made the case for cooperating with the Russian company, according to a recording of the meeting.
Agroton and Nibulon had "abandoned their enterprises and their people," the executive told the group. She said Agrocomplex had paid 4 billion rubles, equivalent to about $65 million, for the businesses' assets, including buildings and the harvest. "Nothing was given for free," she said.
Agroton and Nibulon say they didn't receive compensation. On Aug. 8, Agroton issued a statement saying that Agrocomplex has "seized all assets" in the Luhansk region.
—Kate Vtorygina and Sergii Bosak contributed to this article.