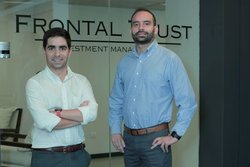 Global AgInvesting | 29 November 2022
Fresh fruits from the Andean region
By Gustavo Llona, Partner and CEO, Frontal Trust Agribusiness
Food security has become even more challenging in recent times, where we have witnessed and experienced how vulnerable food production and supply chains may be, especially when impacted by trade conflicts, pandemics, "special military operations", or other events.
This situation is forcing countries and companies to reassess and redesign their global supply chains and rebalance trade activity as global food demand continues to grow, in part, driven by global population, which recently surpassed the 8 billion milestone.
In this context, Latin America is emerging stronger and better positioned as an option to further strengthen its potential as a reliable and competitive supplier of food products to developed markets. In 2020, total fruit exports from LatAm totaled ~US$51.4 billion (1), or 16 percent of world's total fruits imports during the same year, making Latin America strategically positioned to fulfill production windows required to complete and secure full year supply.
Strategic players in the agribusiness sector have been deploying capital in the region and securing access to cost efficient, high-quality fresh produce, particularly in the Andean region. For example, in January 2021, Manulife, through its subsidiary HNRG, acquired David del Curto; in March 2022, Frutara acquired Subsole, two of the leading fruit exporters in Chile. Large institutional investors have also deployed capital in the space. In 2022, PSP acquired Hortifruit's berry farmland in Peru, ADQ acquired Unifrutti, and CGC became a minority shareholder in Agroberries, to fund its plantation program in LatAm and other countries.
Chile, Peru, and Colombia have large extensions of accessible arable land, qualified labor, and well developed regulatory frameworks to develop export-oriented agricultural businesses. They also provide diversification of climates, crops, and strategic harvest windows for producers and consumers located in the Northern Hemisphere.
However, access to public capital markets and traditional bank financing has historically been limited for the agribusiness sector, thereby hampering the ability of local agribusiness players to fund its expansion plans.
At Frontal Trust, we have been developing strategic alliances with first-class local agribusiness operators with the objective of structuring investment vehicles to fund their growth plans, and connecting capital to investment opportunities in Latin America farmland. Productive agricultural land with secure water supplies will become a scarce and very valuable asset in the near future in LatAm.
The increasing growth of global demand for healthy, fresh produce opens an interesting opportunity to invest in the agribusiness space in Latin America, and to gain exposure to a defensive, resilient, inflation-protected, and uncorrelated asset class in countries that have proven advantages in growing and exporting certain permanent crops such as berries, avocados, hazelnuts, and others.
In Chile for instance, we see an important growth potential in permanent crops such as avocados, citrus, and dried fruits. Peru has strongly benefited from the visionary investment on irrigation infrastructure (project Olmos), positioning the country as a strategic and competitive provider of berries and avocados. Colombia, on the other side, is catching up rapidly, upgrading its logistics infrastructure (especially roads and ports) and growing its expertise, production capacity, and quality as a reliable exporter of avocados, berries, and limes, in addition to its more traditional crops such as coffee, palm oil, and other exotic fruits.
The exceptional soil and climate characteristics of Latin America mean that the region is ripe for a new wave of investments by global players.
Citations:
1. Food and Agriculture Organization of the United Nations data
About the Author
Gustavo Llona has been Partner and CEO of Frontal Trust Agribusiness since January 2022. He has more than 30 years of experience in the sector, leading some of the largest Chilean vineyards and developing, managing, and advising on multiple agribusiness projects in the region. Llona is an agricultural engineer from Universidad Católica de Chile and MBA from Universidad Los Andes.
Frontal Trust (FT) is an investment manager specialized in alternative assets, with a focus on real estate, private debt, infrastructure, private equity, and agribusiness. Founded in 2015, FT currently manages more than US$1.2 billion in assets and investment commitments. Its team, from offices in Santiago, Lima, and Miami, are directly involved in the management, surveillance, and control of its portfolios, in which it co-invests alongside its limited and strategic partners.
Frontal Trust leverages its expertise by partnering with key sector specific advisors that further support the operation and growth of the companies and projects in which it invests, at both executive and board levels.
*The content put forth by Global AgInvesting News and its parent company HighQuest Partners is intended to be used and must be used for informational purposes only. All information or other material herein is not to be construed as legal, tax, investment, financial, or other advice. Global AgInvesting and HighQuest Partners are not a fiduciary in any manner, and the reader assumes the sole responsibility of evaluating the merits and risks associated with the use of any information or other content on this site.