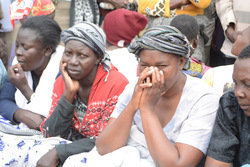 Flower farm Pensive workers from Naivasha based Karuturi flower farm ponder their next move outside their camps in South Lake as they waited for their dues from the company. Image: George Murage
The Star | 28 November 2022
Shalimar flower farm to take over Karuturi flowers
Karuturi has been under receivership over a Sh 1 billion loan default
by George Murage
The Competition Authority of Kenya (CAK) has given a ray of hope to more than 3,000 workers of Karuturi Flowers after in approved its purchase by Shalimar Flowers Kenya Limited.
Under a new proposal, the assets of Karuturi that is currently under receivership will be taken over by Shalimar unconditionally.
The farm's financial woes deepened in 2014 after it was placed under receivership before the final nail on the coffin was hammered last year.
This was after the Supreme Court gave Stanbic Bank the go ahead to sell the assets to recover a loan of over Sh1.8 billion.
In the case, Surya Holdings Ltd and RHEA Holdings moved court arguing that they were denied the opportunity to challenge the contents of the audit report by Deloitte Consulting Limited.
However, a five-bench-judge ruled that there was no issue of a constitutional nature, for the court to determine in the dispute.
But in new development, CAK said that the proposed transaction involves the acquisition of Rhea Holdings Limited (Karuturi under receivership) land by Shalimar Flower farm.
"The parties' combined turnover for the preceding year was over Sh1 billion and this meets the threshold for full merger analysis as provided in the Merger Threshold Guidelines," said the authority in a statement.
The authority further noted that it had considered the impact that the proposed transaction would have on competition in the specific market.
"Post-merger, the land held by the merged entity will increase from the current 94Ha to 194.8Ha, accounting for approximately 5% of the land dedicated to flower farming in the country," CAK said
It added that based on the low market share, the proposed transaction was unlikely to lead to substantial lessening or prevention of competition in the market for land held for flower cultivation in Kenya.
It added that during the analysis, it had considered the impact that the proposed transaction would have on public interest.
"The proposed transaction positively impacts the public since it will occasion creation of employment opportunities when the acquirer commences cultivating flowers for export,"
CAK said the acquisition will also increase the merged entity's ability to compete in international markets through flower exports.