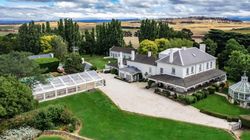 Australian Financial Review | 28 November 2022
New Zealand family buys 200-year-old Tassie farm Vaucluse for $100m
by LARRY SCHLESINGER

One of New Zealand's most powerful agricultural families has emerged as the buyer of historic Tasmanian farm Vaucluse, which sold this month for more than $100 million.
Title deeds to the 4448-hectare cropping property and luxury wedding venue at Conara, south of Launceston, show a transfer from US investment firm Proterra's Vaucluse Agricultural Company to Torallo (Tasmania) as trustee for the Tasman (Vaucluse) Trust.
Torallo is co-directed by Sydney-based Christopher Spencer, son of the late New Zealand farming and meat industry figure Peter Spencer. The other director is Arthur Young, a veteran Auckland businessman with strong ties to the Spencer family.
The Spencers, who maintain a low profile, already have farming interests in Australia through their New Zealand-based pastoral vehicle Rimanui Farms.
Last year, Rimanui purchased Tiela, a 2782-hectare large-scale dryland cropping farm west of Moree for $18.5 million at auction. On New Zealand's North Island, Rimanui Farms owns a number of livestock properties including the 14,000-hectare Lochinver Station near Taupo, one of the biggest farms in the country.
Through another investment vehicle, the Spencers also own the Hope Harbour Marina on the Gold Coast, which they purchased for about $13 million from receivers in 2013, following the failure of Gold Coast developer and convicted fraudster Craig Gore.
Not only will the acquisition of Vaucluse give the Spencer family a major foothold in Tasmania's renowned clean, green agricultural sector, it will also give them ownership of one of the Apple Isle's most prized rural estates.
Included in the sale was a heritage-listed Georgian homestead, built in about 1820 and now completely restored by Proterra, which operated it as a 10-room boutique hotel and luxury wedding and corporate venue.
For Minneapolis-based Proterra Investment Partners, the sale of Vaucluse represented a second lucrative exit for investors in its agricultural funds, after it sold its 22,386-hectare Corinella cropping portfolio in Victoria and South Australia for more than $360 million in December last year to 27 local farming groups.
Proterra Australian managing director Becs Willson told The Australian Financial Review Vaucluse had delivered returns in the "mid-teens" for US and European institutional investors in its global agricultural fund.
With both divestments, Ms Willson said Proterra had demonstrated to investors that it understood the agricultural cycles well – rural property has surged in the past few years off high commodity prices and good seasonal conditions, while Tasmania in particular has become a sought-after destination for investors.
Proterra (spun out of Black River Asset Management, a subsidiary of US agricultural giant Cargill, in 2016) acquired the original Vaucluse asset from Michael and Susie Warner in 2015 for about $20 million, and then added a neighbouring asset the following year to reach its size of 4448 hectares.
During its seven years of ownership, Proterra made substantial investment in improving the productivity of the property, which it used to grow high-yielding crops like potatoes, poppies, carrot seeds and hemp, as well as run livestock.
"We are very proud of the calibre of this asset from the quality of the development to the team that was built through the investment, the majority of whom have transitioned to the new owners to continue their passion farming for Vaucluse," Ms Willson said.