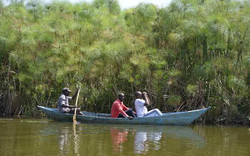 Members of Kanyaboli Site Support group monitoring Yala swamp. (Photo: Standard)
The Standard | 28 November 2022
Investor to pump in Sh20b to reclaim Yala swamp, create 2,000 jobs

By Edwin Nyarangi
Siaya County residents will benefit from a Sh20 billion project after the National Land Commission allocated Lake Agro Ltd some 17,250 acres of land at the Yala Swamp for agricultural use in a 66 years lease agreement.
NLC commissioners Reginald Okumu, Esther Mathenge, James Tuitoek and Tiyah Galgalo held public hearings of the intended allocation of LR. Nos Usonga/Usonga/Block 1/4, 7 & 8 to Lake Agro Ltd between June 13 and 16th this year in Siaya.
Yesterday, Mr Okumu, who chaired the panel listening to grievances raised by residents, told The Sunday Standard that the commission made the decision after the investors met requisite recommendations to invest in the area.
"Considering the length of time it takes to reclaim land and heavy capital requirements which includes costs of completion of reclamation of the land which includes land reserved for the Yimbo, Alego and Usonga communities, we are of the view that a lease term of 66 years is appropriate to Lake Agro Limited," said Okumu.
The commission recommended that Siaya County Government, Lake Agro Limited and communities of Yimbo, Alego and Usonga formulate an MoU on the roles and responsibilities of each party.
Okumu said this will ensure better management of resources with recommendations of Yala Delta Land Use Development Plan providing reclamation of parcels reserved for communities.
The National Land Commission wants public agencies including interested parties charged with mandates touching on matters of environment, conservation, sustainable management and use of land based resources discharge their responsibilities in line with applicable laws and processes.
"It is therefore our finding that approximately 17,250 acres of Yala Swamp in consideration for allocation is public land held in trust by County Government of Siaya under Article 62(2) of the Constitution and not community land as submitted by objecting parties," said Okumu.
Advocate Patrick Ogolla who represented Lake Agro Ltd during the hearings, said the company will create 2,000 jobs for residents and will engage in large scale rice, sugarcane, soya and fish farming.
He said the company had already spent Sh55 million on the parcel which is a commitment to investing in the farm besides a plan to create a Corporate Social Responsibility initiative for the community.
Ogolla said these initiatives include scholarship programs for children in the community and 15 per cent of employees to be from the community for available job opportunities.
Ogolla said the sugar factory was already 70 per cent complete while the rice and soya mills rehabilitated for operation. They will also build schools, roads, hospitals and support locals to reclaim their portion of the swamp and develop it.
He told the hearing that transaction between Dominion Farms Limited and Lake Agro Limited has not been concluded due to various conditions that need to be met and that they have no intention of creating animosity having no part in naming the said Block Usonga/Usonga.
"Lake Agro Limited practised due diligence presenting the National Land Commission with the relevant documents, 9,250 acres was set apart in 1970s in regards to public land provisioning the county council to hold in trust for the community of the area, this process was carried out in accordance with section 1(17) of the Constitution and the Trust Land Act," said Ogolla.
He said there have been some objectors who claimed not to have been compensated in 1970 and that there had been clarifications from the representatives of the 82 families that they were compensated for their buildings and crops.
Ogolla told the hearing that the 82 families were not compensated for their land because the understanding was that they were to be resettled in the land after reclamation, in 2006, a further setting apart was done by the county council with an additional 8,000 acres.
Dominion Farms Limited was brought on board to commercialize the utilization of the Swamp and increase the benefits to the Community, the investor was given a lease of 25 years on what is now Usonga/Usonga Block 1/4 measuring 8,000 acres.
This was done by the county councils of Siaya and Bondo so that the investor may initiate agricultural projects, which included rice, banana, and sugarcane as well as cotton production in addition to aquaculture farming.
The Dominion Farms Limited venture was touted as the single largest investment project in the region, whose agricultural interests were seen as a major boon to the economy of Siaya, it was hoped that the investment would spur economic development in the entire Lake Basin but it exited the scene seven years before the conclusion of its contract.
However, the project encountered severe hurdles when an additional 8,000 acres that were set aside in 2006 was to be leased to Dominion Farms Limited for expansion, Communities raised concerns that they had been overlooked while the investor was being considered.
Community agitation plus other factors led to the exit of Dominion Farms Limited and the formation of a Joint Committee of the County Assembly of Siaya which invited Lake Agro Limited to take over what Dominion Farms Limited had invested in the Swamp.
Yala Ecosystem site support group,Yala Swamp Community Land Committee, Yimbo Ber CBO, Community Wildlife Committee, Bunyala Yala Ecosystem site support Group, Yala Planning Advisory Committee, Nature Kenya Conservation Alliance of Kenya, Lake City Investment Company Limited were listed as objectors to Lake Agro Limited take over.
Community Initiative Action Group Kenya, former Alego Usonga MP Samuel Weya, Col. Wabwire Mabati,Yala ICCA, Edwin Ogwe, Samaki Working Group of Kenya, Yimbo and Alego communities, Yala Swamp Indigenous Community and 82 families on matters concerning Yimbo were also in the list who did not want the new investor to take over the project.
County Government was listed as the Respondent in the matter while Kenya Wildlife Service, National Environmental Management Authority, Water Resources Authority, Lake Basin Development Authority, County Assembly of Siaya and Lake Agro Limited were listed as interested parties in the matter.