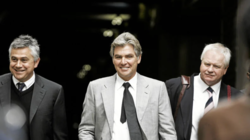 Business tycoon Billy Rautenbach (centre)
Bulawayo24 | 8 November 2022
Billy Rautenbach's Green Fuel 'settles' land disputes with villagers
Business tycoon Billy Rautenbach's Green Fuel Private Limited claims to have settled its drawn-out land disputes with villagers in Chipinge South through parcelling out one-acre fields of irrigated land to affected households under a compromise arrangement backed by government.
Green Fuel is in a joint venture with government through the Agricultural Rural Development Authority (ARDA).
The company has torched an outcry through seizure of land bordering its multi-million-dollar ethanol plant in Chisumbanje to extend the size of its vast sugarcane estates covering over 12 000 hectares.
Families, helped most prominently by local NGO, Youth Platform for Community Development and lawyer Lovemore Madhuku, have resisted the grabbing of their ancestral land but a combination of force and persuasion by the company and the state has been used to subdue them.
As a compromise approach, the green energy producer has partitioned part of the seized land into one-acre plots of irrigated land to allow affected families make a living through planting crops which use water drawn over many kilometres at the company's expense.
Green Fuel general manager Conrad Rautenbach, son to company owner Billy Rautenbach, however distanced the private entity from the land seizures claiming this was a political smear campaign.
"I think a lot of disputes in the past were because of misinformation, maybe some of it was political," Rautenbach told journalists on the side-lines of the handover of 253 plots to families in Chipinge South Saturday.
"Green Fuel is a joint venture with ARDA and ARDA provides the land and Green Fuel provides the investment and technical skills.
"It was not Green Fuel; it was political and now it has been fixed and l think the community realises we deliver on our promise and we have got a very good relationship not only on the land but on schemes and also there is a lot of different community projects that we do."
Lands, Agriculture and Rural Resettlement Minister Anxious Masuka, flown from Harare over 500 km to put a government stamp to the arrangement, pleaded with villagers to look beyond the thought of losing land but to view it as an opportunity to embark on more sustainable farming practices while piggybacking on Green Fuel's rich infrastructure.
"You now have to stop looking at yourselves as mere farmers who depend on rainfall for cropping but to consider yourselves now as business people," Masuka told dozens of villagers who attended the handover ceremony.
The event was also attended by government officials, members of the Joint Operations Command, area councillors, traditional leaders and Chipinge South MP Enock Porusingazi.
Added Masuka, "A farmer is someone who constantly looks at the weather and hopes that rain comes down some day but a business person is certain of the water availability and can plan more confidently.
"The land can now allow you not just to produce plants but to produce crops in a more sustainable way in which you can make business out of it."
Joseph Mashava of Chinyamukwakwa area in Chipinge South claims he lost 150 hectares of family land and was replaced with a 1 acre plot.
With combined labour source of his 14 wives and many children, he says he toiled to produce two bales of cotton before his land was seized but his yield has since increased to 4.8 bales on a one acre plot.
Similarly, his neighbour Marvelous Khumbula planted cotton and maize on a seized family plot but realises an opportunity to turn into sorghum he claims would be more profitable with his single acre plot.
Green Fuel has invested US$10,000 per in providing sources of water per hectare with 1,000 hectares designated for the community.
According to Conrad Rautenbach, the entire project has seen US$300 million invested since launch 2009.