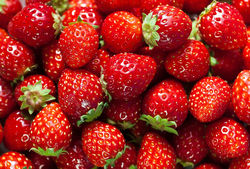 Global AgInvesting Media | 25 October 2022
Arable expands premium fruit footprint, partners with BlazerWilkinsonGee and industry veteran David Sullivan

By Lynda Kiernan-Stone
Leading sustainable food and agribusiness investor Arable Capital Partners has expanded its footprint in the fresh fruit segment through a new partnership with BlazerWilkinsonGee (BWG), a leading grower, packer, and shipper of premium strawberries in North America, and David Sullivan, industry veteran and co-founder of Pacific Trellis Fruit.
Arable was launched by a team of highly experienced industry veterans who are aiming to fill the funding gap that exists in the food and agriculture sectors. Combining a long-term investment horizon with a deep well of expertise in the domain, Arable is often the first outside investor in what have been historically privately family-held and operated companies.
Aware that by its very nature, the food and agribusiness sectors require a long-term investment outlook, Arable targets investments in operations headquartered in the Western region of the U.S. – often with family management or operating teams along the entire agricultural supply chain. And this partnership comes on the heels of a particularly active period for Arable.
Headquartered in Salinas, California, BWG has strawberry farms in California, Florida, and Mexico, selling its fruit nationwide under the Foxy brand. Bringing this business into the fold gives Arable even greater exposure to the rapidly growing global fresh berry category, which is expected to grow at a CAGR of 3.73 percent to reach a value of nearly US$3 billion by 2030.
"With this transaction, we are getting great partners in a top-notch strawberry operation," said Greg Richards, founder and managing director, Arable. "This is a fantastic opportunity for us to be part of the growing berry category."
Fresh Takes
It was only a few months ago, in July of this year, that the firm announced it had secured $250 million in follow-on commitments for its fund Arable Capital LLC, bringing total combined AUM to more than $550 million.
At the time, managing director of Arable, Derek Yurosek, commented, "This additional funding will allow Arable to continue to create successful long-term partnerships with portfolio companies and we thank our investors for their continued support." – And that's just what Arable's been doing.
In 2018, the firm made two significant investment partnerships. First in April acquiring Fresh Innovations California, a leader in the fresh sliced apple category, and then in June acquiring Farmington Fresh Cuts, a processor of fresh sliced apples, oranges, pears, and other packaged fruit.
Then in February 2021, Arable forged a partnership through a strategic investment in Pacific Trellis Fruit/Dulcinea – of the the top U.S. year-round growers, importers, and marketers of premium fruit fruit including melons, table grapes, citrus, cherries, and stone fruit, among others, under the Dulcinea brand.
This was followed four months later by the acquisition of Royal Ridge Fruits – a leading vertically integrated grower and processor of both conventional and organic tart and sweet cherries, apples, blueberries, and other assorted dried and IQF (Individual Quality Frozen) fruits under the Stoneridge™ Orchards brand.
This latest deal with BlazerWilkinsonGee expands upon these successful partnerships, and strengthens Arable's presence in the vertically integrated premium fruit space.
"With this transaction, we are getting great partners in a top-notch strawberry operation," said Greg Richards, founder and managing director, Arable. "This is a fantastic opportunity for us to be part of the growing berry category."
Yurosek added, "As a leader of a top produce category with an impressive and diversified customer base, BWG has a strong platform on which to expand. We look forward to working with the entire BWG team to continue to drive growth and deliver outstanding products and service to customers."