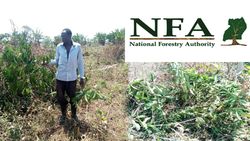 Mr. Kabira Wilson displaying his destroyed coffee plants. Photo: Witness Radio
Witness Radio | 17 Oct 2022
NFA land giveaway bonanza turns Luweero farmers into destitute.
By Witness Radio Team
Land evictions in Uganda spiral and are a thorn in the lives of many poor Ugandan communities whose entire livelihood thrives on substance farming.
The government, and its agencies, especially the National Forest Authority (NFA), have been singled out by communities for aiding forced evictions to give way for land-based investments by the untouchable wealthy local and foreign investors.
The insatiable thirst for carbon credit schemes has left many smallholder farmer communities grappling with the life-threatening effects of violent land grabs masterminded by the National Forest Authority and fueled by unpoliced and loitering international funding.
The continuous evictions have left millions of indigenous and local smallholder farmers homeless and landless. Uganda's National Forestry Authority has been cited in several cases for donating land occupied by communities to investors (both local and foreign) for planting trees in the name of reforestation of depleted forests for carbon credits.
Over 2900 acreages in the Luweero district belonging to residents were donated to investors to grow eucalyptus and pine trees while part of the said land is occupied by a goat farm.
Every time a conversation about NFA crops up, Topi Nalwoga is a taken-back to the 2015 eviction by NFA in Yandwe, Butuntumula Sub-County, Luweero district. It disintegrated her community and deprived her of human interaction. What used to be homes to friends and relatives is now littered with trees. Neither was she spared. Her home is in the middle of a tree plantation.
Nalwoga said before the evictions would harvest coffee, maize, matooke, and mangoes from six acres of land to educate and provide for her family of 7.
This practice is not different in other parts of the country. On a fateful day of 18th May 2019, in Luweero, Yandwe village woke up under the invasion of armed soldiers and police who burnt houses and razed down their gardens claiming they were illegally occupying Mbale Central Forest Reserve land.
A 49-year-old, former landlord is now a casual laborer on nearby plantations to put food on the table for her family. In a day, Topi earns 5,000 Uganda Shillings (equivalent to 1.31 USD) explaining that it cannot meet all her family's needs. Before, she was earning about 1,000,000 Million Uganda Shillings (about 262.62 dollars) from her proceeds in a season.
"I spend my daily wages on food. My children no longer go to school because we have been turned into slaves in our own country," she revealed.
Her settlement on the land has a lineage bond. Her grandfather Mr. Kosia Katula occupied the grabbed land in 1921 before its gazettement as a forest reserve. Later in 1944, her father was born and inherited the land.
The NFA gazetted the Mbale Central Forest Reserve in 1967 when people had already settled on it. This accordingly meant that the community had to be consulted, compensated, or resettled before the evictions.
Her story is not different from the other 700 community members who lost their source of livelihood in NFA evictions in the same area.
Some of the residents that have resisted the forceful evictions were barred from using the land. About 9 families have their houses trapped in the middle of the tree plantations laboring elsewhere to feed their families.
Mr. Wilson Kabiira who had 20 acres says he was denied access to his land. He said the NFA employed gangs to beat people who had refused to vacate the land.
"My family is starving because I have nowhere to work from, when they find you attempting to do any work on the land, they beat you and raze down your crops," he added.
He added, "Our young girls have been married because ideally, they dropped out of school, families do not have food and many of them have separated as a result.
During the evictions, people lost property worth millions. The community says the NFA did not consult, or compensate them for their land.