Mekong Eye| 17 October 2022
Indigenous Cambodians stripped of ancestral land
by Nehru Pry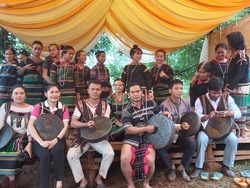 Bunong Indigenous community celebrated International Day of the World's Indigenous People. Photo: Kroeurng Tola
In the remote and densely forested northeastern province of Mondulkiri in Cambodia, Song Pro, a member of the indigenous Bunong community, stares at a rubber plantation that was once a sacred forest.
When the war in Indochina came to Cambodia in the 1970s, the forest saved Song Pro.
At the sound of planes, she and her family hid deep within its trails and trees, its canopy providing cover from the sights of American bombers.
"We were safe in that sacred place," said the now 60-year-old farmer. But when peace finally returned, Song Pro and her community could not save the forest.
One morning in 2008, bulldozers arrived. The land where Song Pro and her community had farmed, foraged and worshipped all their lives was now someone else's property.
To Song Pro, that was inconceivable. She and the people of Bousra Commune in Mondulkiri province are members of the Bunong, an ethnic tribe known as "the caretakers of the forest."
They have lived in this wilderness for centuries, carving out plots to plant rice and fruit orchards, then letting the trees regrow so the forest could thrive and sustain them. For the Bunong, the forest is sacred. It is not something to be bought or sold.
But Cambodia's government sees it differently. Land is one of the few sources of revenue the once war-torn country has, and the government sees trees simply as timber that can be sold for a profit and to help build the nation's wealth.
Without even consulting the Bunong people, the government took Bousra Commune's land and leased it to French firm Socfin-KCD, which has a Cambodian private partner.
The lease is for 70 years and was given under what authorities call an Economic Land Concession (ELC) ― a government's program that provides the private sector with long-term leases of land for agricultural and industrial development.
The Bunong's fruit orchards, rice fields, homes and trees – even their places of worship – were quickly razed to make way for the rubber plantation.
"We lost everything," Song Pro said. The company offered her some cash for her fruit and rice, which she refused.
Song Pro had no rights to the land, according to the government. Despite living on it all her life, neither she nor her neighbors had ever registered their ownership with the state.
It's a situation common in many parts of Cambodia, in which the individual or collective rights of indigenous and rural people are ignored, and their land is sold in the name of building the nation's wealth.
Land rights loss
The cost of rapid development for indigenous people can be very high.
Rural communities, where people were largely self-sufficient, have become increasingly fractured. Many families split as some members migrated to cities, or other countries, looking for work.
In Cambodia, tens of thousands leave to work in factories in Thailand and other nearby countries. The most unfortunate are trafficked and many end up as slaves on Thai fishing boats.
"Most of the local indigenous people leave to find work in Thailand or Malaysia," said Kroeung Tola, a Bunong who represents his people with other tribes. "The damage caused by forest loss isn't limited to individual lives and communities. The destruction of the environment is a potential danger to us all."
Ironically, Cambodia was the first country in Southeast Asia to officially designate a forest a protected area.
In 1925, more than 10,000 hectares around the Angkor temple complex was declared a national park. Between 1925 and 1975, the country created six national parks covering about 12% of its land.
But in April 1975, the Khmer Rouge overthrew the government. During their four-plus years in power, they drove everyone onto collective farms or labor camps and destroyed all land ownership records.
During the later Vietnamese invasion and the years of civil war that followed, armed groups deforested much of Western Cambodia, selling the timber to get money to buy weapons. Other parts of the country, including Mondulkiri in the east, did not fare as badly at that time.
When the civil conflict finally ended in the 1990s, King Norodom Sihanouk expanded protected forests to 18.3% of the land. However, the government then started clearing forests in a more organized way, as it was one of the few sources of income in the then war-ravaged, undeveloped, resource-poor country.
From 1994 to 1997, the government granted 36​ forest concessions covering 7 million hectares – close to 70% of the country's forest area, according to a report by the Global Initiative Against Transnational Organized Crime (GITOC). The situation has not improved in the new millennium.
The Mondulkiri forest is only one small example of the massive loss of tree cover in Cambodia over the last two decades.
Forest loss in Cambodia from 2001 to 2020 was nearly 2.5 million hectares, according to data from Global Forest Watch, which uses satellite imagery to develop its estimates. That is the equivalent of destroying a forest twice the size of the nation's capital, Phnom Penh, every year during those two decades. ​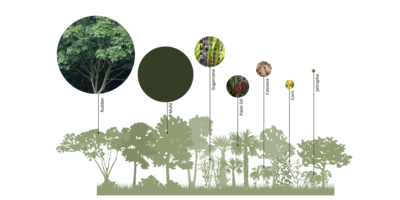 Most land concessions were granted for the development of rubber plantations, accounting for almost 800,000 hectares, followed by palm oil, cassava, sugarcane, corn, and jatropha. Chart: Thibi

Resource grabbing
Deforestation in Cambodia is driven largely by illegal logging and by the expansion of agricultural businesses, often through ELCs, according to GITOC's report.
Most ELCs are for large-scale plantations, livestock farming or food processing factories. In the past 10 years, Cambodia has lost 1.8 million hectares of forest, an area larger than Mondulkiri, the country's biggest province.
The government established ELCs under the 2001 Land Law. ELCs were meant to attract domestic and foreign investors, spur development, create rural jobs and put unused land to good use.
However, the Cambodians who have been granted ELCs are often powerful businesspeople, known by their title of Oknha. These people have close ties to the ruling elite.
Human rights activists say the Land law has resulted in a relentless land and resource grab by the rich and powerful. Between 2004 and 2013, an average of 200,000 hectares was awarded to businesses every year.
Rubber plantations, accounting for almost 800,000 hectares, have been the leading use of ELCs, but they have also been used for palm oil, cassava, sugarcane, corn and jatropha plantations.
At their peak, ELCs covered more than 2 million hectares, or one-eighth of Cambodia's entire land mass.
The GITOC report said a significant amount of illegal logging had been taking place around the borders of the ELCs and claimed the owners of the concessions may have been involved directly or had helped launder the timber.
Local communities and activists have questioned the benefits of ELCs to local economies. According to the World Bank, from 2004 through to 2012, roughly the same period in which most ELCs were granted, Cambodia's agricultural sector averaged 5.3% growth per year, one of the fastest growth rates in the world.
The country's rubber exports alone were worth more than $2 billion between 2000 and 2020, according to the UN Comtrade.
However, the revenue the government collected from ELCs for the land used by agro-industries such as rubber was pathetically low.
With nearly 1.2 million hectares still in use as ELCs, the government should be collecting about $6 million a year in revenue. In reality, the government has been collecting just over $1 million a year. ELCs have failed to deliver on the promise to boost state coffers.
Believing the country was being shortchanged, Prime Minister Hun Sen suspended the issuance of ELCs in 2012 and canceled more than 100 concessions around the country. But the policy has not been abandoned. The government said it will be revised. In the meantime, the land grabbing goes on.
"Now we see new land concessions like Boeung Tamok lake, and the new Phnom Penh airport in Kandal province, which led to the arrests of local residents protesting the effect of concessions on their lives," said Van Sophat, land monitoring officer for the Cambodian Center for Human Rights (CCHR).
In March last year, the government passed a regulation that will, in effect, make 127,000 hectares of protected land in the Cardamom Mountains available for sale.
The Cardamoms are considered among the most pristine and species-rich habitats in the region. It would not be the first time authorities have granted ELCs on protected land that includes wildlife sanctuaries.
Fight back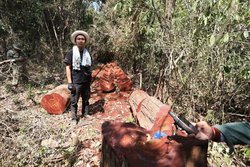 San Mala, advocacy officer for the Cambodian Youth Network, reported illegal logging while he was on patrol in Preah Roka Wildlife Sanctuary in Preah Vihear province in 2020. Photo: Supplied
"Deforestation has occurred in almost every part of Cambodia," said San Mala, advocacy officer for the Cambodian Youth Network, which promotes and protects natural resources and forests.
Deforestation was reportedly ramped up during the Covid-19 pandemic when communities were prevented from patrolling protected areas.
In Cambodia's northern Preah Vihear province, Kouy indigenous community reported that at least 249 trees were illegally cut down in Prey Preah Roka wildlife sanctuary. The numbers were recorded during two patrols in July and August.
Meanwhile, the hostile atmosphere toward environmental and human rights defenders has forced many to suspend their activism.
In November last year, a report by CIVICUS, a global civil society alliance, named the Asia-Pacific and Latin America as the most dangerous regions for environmental defenders and cited Cambodia's imprisonment of three activists for planning a protest.
"In Cambodia, where the criminalization of activists has been widespread, authorities have brought charges such as 'incitement', 'plotting' and 'conspiracy' against environmental and land defenders," the report said.
Yet despite the intimidation, harassment and even imprisonment, some Cambodians have been fighting back. These include the Bunong indigenous people of Bousra Commune in Mondulkiri province.
When they learned the state did not recognize them as the "owners" of their land, the Bunong began their battle for justice by protesting.
They started protesting against the government through a series of demonstrations, complaints submission and negotiations with government officials and the private company ― which were mostly met with silence.
In 2007, Cambodia signed on to the UN's Declaration on the Rights of Indigenous Peoples. By signing on, Cambodia is obligated to ensure that its local laws, involving indigenous people's human and land rights, are in line with the declaration.
Cambodia does have a process for indigenous peoples to register their land. However, it is "complex, costly, lengthy and inaccessible," according to the UN's Office of The High Commissioner For Human Rights (OHCHR).
The OHCHR reported that Cambodia had 455 indigenous groups. Each must apply for recognition as an indigenous community with the Ministry of Rural Development and the Ministry of the Interior. In 2021, only 154 had received recognition. Of those, only 33 have been granted collective land titles.
At the rate the government is moving, it would take another 100 years before all the communities receive official recognition.
"The longer the registration takes, that means their identity is disappearing because businessmen and private companies will take their land," said Van Sophat, land monitoring officer for the Cambodian Center for Human Rights.
Kroeung Tola, the Bunong representative, does not believe the registration process will save his community.
"Since 2012, we've tried to register our land to be recognized. Now, it has not been registered while the businessmen are grabbing our land," he said, adding that no issues or flaws have been raised by bureaucrats about their application.
"But the government is unwilling."
Not for sale
To date, the government has not responded to the Bunong's application for a collective title. The Bunong, however, have not been waiting on the government.
Their faith in Cambodia's justice system long gone, 80 community members, with assistance from local and international NGOs, engaged a lawyer in France and filed a case in 2015 with the 6th Civil Chamber of the Nanterre Judicial Court, the jurisdiction where Socfin's parent company Bollore Group is headquartered.
It is the first case in France of a parent company being tried for the actions of a subsidiary in a foreign country, according to Fiodor Rilov, the lawyer representing the Bunong.
In July last year, after six years, the French court ruled against the community, saying the individuals had no right to the land as they had no title documents. The court ordered the 80 plaintiffs to pay Bollore Group's court costs of 20,000 euros, a sum beyond their means.
Rilov, on behalf of the Bunong, filed an appeal to a higher French court in December.
Predicting what a higher French court will decide is anyone's guess. In Cambodia, however, a few signs of hope may be emerging. Prime Minister Hun Sen announced that people who can prove they've lived in a protected area for more than 10 years can be granted land titles.
Whether that will result in real action, or just serve as political posturing, remains to be seen.
Sheila Wertz, a senior forestry officer with the UN Food and Agriculture Organization (FAO), said that despite the deforestation, the country still has time to adjust its course, set things right and preserve its priceless forests.
"Cambodia is still in a good position to secure its wealth of valuable natural resources through landscape-level approaches to forest landscape restoration and improved natural resources management."
"Rural development should be a whole package that includes access to equal, fair information, capital, resources. Economic Land Concessions and land grabbing have been a disaster. Cambodia is not for sale," said former opposition lawmaker Mu Sochua.
For Song Pro, the little hope she has is fading.
She has watched, powerless, as high-ranking military officials and businessmen have claimed more of her sacred forest.
"Our land is now the 'seen land,'" she said, referring to its potential value having caught the eyes of the wealthy and connected who have designs upon it.
"Every time that I pass our land, I look at it and worry they will never return it," she said. "It always makes me feel bad."