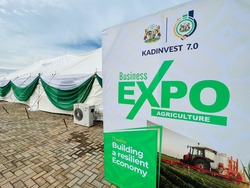 The Star | 13 October 2022
Kaduna govt allocates 800,000 hectares for agriculture
Kaduna State Government has declared its readiness to utilise over 800,000 hectares of virgin land located between Buruku and Birnin Gwari for agricultural purposes.
The government said that it also planned to build a mega dam and encourage the opening of farm centres to provide opportunities for graduates to engage in farming.
The Director-General of the State Urban Planning and Development Agency, Ismail Umaru-Dikko, made this known at the Business Expo of the 7th Kaduna Investment Summit, on Thursday.
According to him, the projects will help to address the decades of insecurity in the area.
Addressing potential investors during the business expo, Umaru-Dikko said that the aim was also to tap into irrigation.
"From Buruku to Birnin-Gwari where we have been experiencing armed robbery from time immemorial, we have a very massive land that has never been utilized there.
"And that is why we cannot just fold our arms and allow criminals to continue to take advantage of the blessed land," he added.
According to him, as way of finding lasting solution, a dam will be built to save the water, address flood problem and harvest the water during the dry season for irrigation.
"This we believe will also create jobs; most of the youth rushing to study Business Administration and Accounting in the universities can go into agriculture.
"We will encourage the youth to venture into agriculture; this is the reason we brought the OCP Fertilizer company to partner the government in that direction.
"We also brought NEXIM Bank to see how we can export the products from here in a big way," he said.
Similarly, Mrs Phoebe Yayi, the Administrator of Kafanchan Metropolitan Authority, said the municipality has vast opportunities in agriculture.
She called for investment in agriculture value chains in Maize, Yam, Rubber, Sorghum, Apples and Grapes.
Yayi told the potential investors that Kaduna State contributes 50 per cent of ginger protection in Nigeria, mostly grown in the area.
She also highlighted opportunities in rubber production, saying that the municipality is looking for support to improve rubber cultivation from the present five hectares to between 50 and 100 hectares.
Yayi said other investment opportunities abound in palm trees cultivation, and the vast deposits of nickel in Jema'a Local Government Area for the production of wires, nails and ceramics.