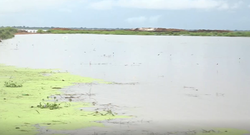 A cross-section of a flooded farmland in Nasarawa state.
Channels Television | 8 October 2022
Major rice farm hit by flood in Nasarawa
The price of rice may increase during the approaching festive season after one of the nation's largest rice farms operated by Olam Nigeria was affected by flooding in Nasarawa state.
In a chat with Channels Television, the farm's Chief Agronomist, Dr Umar Ismaila, said more than 4,000 hectares of farmland has been submerged due to the floods.
Although the level of damage cannot yet be ascertained until the water recedes, Dr Umar said the incident will have an implication on Nigeria's food security.
Many parts of the country have witnessed heavy flooding in recent weeks.
The Nigeria Hydrological Services (NIHSA) has blamed state and local governments for disregarding "adequate and timely warnings" and weather advisories issued by various Federal Government agencies.
'Urgent intervention'

A statement later released by Olam said damage to its farm could be worth as high as $15 million.
"Other Damages are infrastructures like Dykes, Canals, drainage worth $8 million," the statement said.
Counting the losses, the farm's business head and Vice President Olam rice farm, Anil Nair reiterated that the losses are huge but can only be estimated once the water recedes.
"OLAM rice farm in Rukubi, Doma local government area of Nassarawa state is seated on a thirteen thousand, five hundred (13,500) hectares land and operates a crop area of four thousand, four hundred (4500) hectares." the statement added.
"It is the largest rice farm with the state of the art equipment in Africa.
"The company recently upgraded its milling capacity from one hundred and twenty thousand (120) metric tonnes to two hundred and forty (240) metric tonnes annually as part of the company's efforts to ensure food availability and security in Nigeria.
"Olam also has consistently support its host communities as part of its social cooperate responsibility (CSR) initiatives.
"Hundreds of people from the six host communities where Olam rice farm is located in Rukubi Doma local government area of Nassarawa state, have benefited from these gestures by the company as part of its corporate social responsibility programme.
"The farm also provided instructional facilities for primary and junior secondary pupils in the communities to enhance learning.
"With these numerous supports both for the Nigeria's Agriculture sector and humanitarian support to the host communities, it won't be overboard to say that government's urgent interventions are necessary to mitigate the effects of the disaster, reduce hunger and encourage development of adapting climate change technologies to enhance food security."