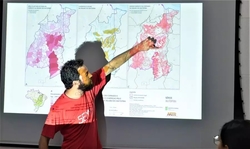 Evento da AATR denuncia grilagem de terra no Matopiba. Foto: Reprodução
A Nova Democracia | 6-10-22
BA: Evento denuncia grilagem de terra no Matopiba
No dia 28/09, o Comitê de Apoio ano AND de Salvador esteve presente em um evento na Universidade do Estado da Bahia (UNEB) que denunciava a grilagem de terras e avanço do latifúndio sobre o Matopiba, região formada por áreas majoritariamente de cerrado nos estados do Maranhão, Tocantins, Piauí e Bahia.
O evento "Na fronteira da (i)legalidade: Desmatamento e grilagem no Matopiba" ocorreu na Associação dos Docentes da Universidade do Estado da Bahia (Aduneb), organizado pela Associação de Advogados de Trabalhadores Rurais (AATR), e contou com grande participação de estudantes de direito, professores e advogados que lotaram o auditório.
O evento, por meio de um estudo elaborado pelos pesquisadores da AATR, denunciou o avanço brutal do latifúndio por meio do desmatamento e da grilagem sobre o Cerrado na região do Matopiba, que tem causado devastação e violência sobre os camponeses pobres, tudo com o aval do velho Estado, do poder executivo e judiciário. Estas regiões, hoje, têm despertado interesses dos latifundiários da soja, que têm subido desde a região Centro-Oeste e aprofundado a exploração desta área. A pesquisa completa pode ser acessada e baixada no site www.matopibagrilagem.org.
Apoiadores de AND denunciam o latifúndio
Os ativistas do Comitê de Apoio venderam exemplares de AND e saudaram o evento, destacando a relevância do tema, denunciando o avanço do latifúndio no Brasil e a violência contra os camponeses, indígenas e quilombolas. Também apontaram como nenhuma das candidaturas presidenciais mostrou qualquer oposição ao avanço do latifúndio no país e que isso levaria uma inevitável, crescente e aguda luta pela terra das massas camponesas no campo contra o latifúndio, sendo fundamental o apoio dos estudantes, professores e advogados nestas batalhas.
Um advogado popular também mencionou a luta pela terra da Liga dos Camponeses Pobres (LCP) no sul da Bahia e apontou ao caminho combativo e popular da luta, afirmando que: "como as coisas vão, só vai restar esse caminho".
O debate se abriu e foram feitas muitas intervenções combativas destacando como o avanço do latifúndio, travestido de "agronegócio", representa, na verdade, um atraso para a economia de nosso país e miséria e exploração para as massas populares.
NÃO SAIA AINDA… O jornal A Nova Democracia, nos seus mais de 18 anos de existência, manteve sua independência inalterada, denunciando e desmascarando o governo reacionário de FHC, oportunista do PT e agora, mais do que nunca, fazendo-o em meio à instauração do governo militar de fato surgido do golpe militar em curso, que através de uma análise científica prevíamos desde 2017.
Em todo esse tempo lutamos e trouxemos às claras as entranhas e maquinações do velho Estado brasileiro e das suas classes dominantes lacaias do imperialismo, em particular a atuação vil do latifúndio em nosso país.
Nunca recebemos um centavo de bancos ou partidos eleitoreiros. Todo nosso financiamento sempre partiu do apoio de nossos leitores, colaboradores e entusiastas da imprensa popular e democrática. Nesse contexto em que as lutas populares tendem a tomar novas proporções é mais do que nunca necessário e decisivo o seu apoio.