Khmer Times | October 4, 2022
Bousra villagers agree to accept Socfin-KCD compensation
Tith Kongnov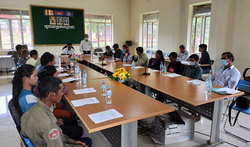 Reps of indigenous communities in Mondulkiri meet reps of two private companies and agreed to compensation for their lands. Photo: supplied
About 100 families from five villages in Bousra commune, Pech Chreada district, Mondulkiri province, have agreed to end a long-running land dispute with the Socfin-KCD company that is active in the rubber plantation industry.
Bros Pich, a representative of Bousra commune, said 102 family representatives from Pu Teut, Pu Raing, Bousra, Pu Char and Pu Luk villages agreed to the $200 per hectare compensation from the private company.
He said 24 families have, however, declined Socfin-KCD's offer.
"Our indigenous community land spans almost a thousand hectares and we have been against Socfin-KCD since they started planting rubber trees in 2016.
"I think some villagers still reject a resolution from the company because they think that it is not fair and unjust for them but the others who have accepted the offer are just tired of continuing to protest anymore, so they decide to accept the company's resolution," he said.
Forestry activist Kroeung Tola said that the land dispute between the communities with Socfin-KCD has been ongoing since 2016.
He said some people have agreed to negotiate to find a solution from the company and some of them are still refusing to do so and are continuing to protest and seeking intervention from the authorities.
"I believe that the villagers who do not want to accept the compensation are doing so because the company is using their power to threaten their security and told them not to talk about what the company has done in their community," he said.
According to a September 27 statement, the local communities in Bousra commune and the company have held discussions to end the land dispute between members of five communities in Bousra commune (Pu Teut, Pu Raing, Bousra, Pu Char and Pu Luk) and the companies.
It said that the mediation aimed to introduce alternative conflict resolution and was a pilot project for the Kingdom. It was a voluntary collaborative process where the two parties identified issues.
Discussions were conducted separately and organised by land tenure type. The companies and the communities of Pu Teut, Pu Raing, Bousra, Pu Char and Pu Luk jointly agree to release this public joint statement citing the following main negotiated resolutions.
It added that to officialise the protection status and boundaries on-site of communal land areas that are already jointly protected by the communities and the companies; and to address any further claims related to that type of land, negotiation meetings were organized about communal land.
The company also agreed to keep the five kinds of concession land such as Communal land, spirit forests, sacred forests, cemeteries and reserve land given to the communities of Pu Teut, Pu Raing, Pu Char and Pu Luk have mutually agreed on the location, size and boundaries of 511 hectares of communal land within the ELCS.
The company also provided the money according to some benefit to the people, especially the people who were affected by the company planting rubber trees on their farmland.