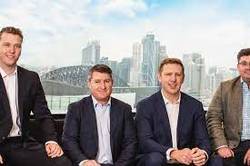 New Agriculture's leadership team, Ben Pickles, Bruce King, Ben Mason and Jamie Lord.
Farm Online | 7 September 2022

New Forests launches New Agriculture to buy global farmland
By Andrew Marshall
The $8.7 billion Sydney-based global investor and manager of nature-based property assets has formed New Agriculture to build a much bigger portfolio of agriculture assets.
The new portfolio management group will be headed by Bruce King, the former inaugural chief executive officer of the federal government's specialist farm sector lender, the Regional Investment Corporation.
New Agriculture's initial footprint will be in Australia and New Zealand, including managing Lawson Grains' 10 properties spread from Moree in northern NSW to Esperance and Wongan Hills in WA.
Lawson Grains was sold for an estimated $550 million by Macquarie Bank's Macquarie Asset Management to New Forests and the Alberta Investment Management Company (AIMCo), which officially took control of the business in January.
New Agriculture's objective will be to manage farm assets to achieve market leading investment returns through sustainable agricultural production.
The strategy is to align with New Forests' strategic impact objective, finding nature-based solutions and develop the "circular bioeconomy" to achieve investment growth goals.
It has 1.1m hectares of assets under management, including timber plantations and conservation areas, carbon and conservation finance projects, agriculture, timber processing and infrastructure assets.
New Forests senior managing director for Australia, New Zealand and the USA, Mark Rogers, said the New Agriculture venture was building on the investment firm's 17-year track record managing forestry and other landscapes for sustainable production.
Ag's inflation hedge

"Like forestry, agriculture is a real asset which provides investors with a strong cash yield, a natural inflation hedge and is uncorrelated to other asset classes," he said.
Mr King, who reports to Mr Rogers, led the Orange-based RIC for three years until leaving in January.
He becomes director of agriculture at New Agriculture working with three other leadership executives, portfolio manager, Ben Mason; operations manager, Ben Pickles, and investments manager, Jamie Lord.
Mr King oversaw distribution of $3 billion in lending during his time with RIC and prior to that was an investment manager with Blue Sky Alternative Investments and held various roles during a 13-year stint with Rabobank.
Mr Mason most recently spent four years at Roc Partners as vice president of agriculture and has worked with PwC's food and agribusiness advisory team and at NSW Farmers, where he was a senior policy manager.
Mr Pickles was recently the operations and investments finance business partner at Queensland's Kilcoy Global Foods, having also worked with Qatari pastoral business, Hassad Australia and MSF Sugar.
Mr Lord, who led the Lawson Grains transaction for New Forests, has been with the investment group since 2013, prior to which he was in other agricultural investment jobs for almost 20 years.
He has been managing the operations and growth of New Forests' agricultural assets and shifting some of the business' forestry funds to agricultural markets.
Optimising land value

New Forests chief, Mr Rogers said combining the investment group's experience in forestry with agriculture, would allow it to optimise the value of the land between sustainable food and fibre production, carbon sequestration, conservation, and community benefits.
"We believe improving agricultural land management and optimising landscapes for multiple uses, will help the global economy transition to a sustainable future."
Mr King noted agricultural industries in Australia and NZ were significant contributors to GDP, employed thousands of people, and were a vital part of our food supply.
He said the sustainable management of these landscapes was more important than ever.
"I'm delighted to lead a strong, experienced team and look forward to building the New Agriculture business."