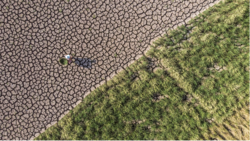 A villager in Neijiang, Sichuan Province, China, walks on a cracked paddy field, dried up from a recent drought, on August 24. (Photo: Getty Images)
Nikkei | 31 August 2022
Farming out: China's overseas food security quest

by Betsy Joes and Cissy Zhou
Drought has plunged water levels in China to a once-in-decades low. Some Chinese cities, reliant on hydropower, are going without air conditioning as temperatures soar and residents walk on dry riverbeds. But the most catastrophic consequences could be in store for the country's food supply. On Aug. 23, four government departments warned that the autumn harvest, which supplies 75% of China's grain, is under "severe threat" due to the drought. "The rapid development of drought superimposed with high temperatures and heat damage has caused a severe threat to autumn crop production," they said in a statement.
The anticipated poor harvest is the latest in a series of food supply shocks that have buffeted global markets this year, following the war in Ukraine that caused global shortages of everything from sugar to cooking oil.
For China, it is another reminder of the need to diversify risk. For more than a decade, Chinese companies, state-owned and private, have been on a global shopping spree, buying land, grain elevators and food processing plants throughout the world as consumption outpaces agricultural production that is constrained by rapid urbanization.
Food security is clearly a priority for China's leaders, and is likely to be a prominent topic at the 20th Communist Party Congress later this year. "The food of the Chinese people must be made by and remain in the hands of the Chinese," President Xi Jinping was quoted as saying by state television in December. "Everyone needs to take responsibility for food security."
On March 6, following the Russian invasion of Ukraine and massive economic sanctions on Russia by the West, Xi again rejected the notion that world markets could be counted on to supply the country's needs, according to an account in a state newspaper.
But experts say Xi's apparent goal of relying on domestic production is difficult to achieve, given rising incomes and shrinking arable land. The next best thing is to import as much as possible from its own companies. Thus, while China's top leadership promotes production at home, Chinese investors are working to find footholds in different parts of the overseas food supply chain. With countries experiencing food shortages from the Ukraine war, the way China sources its food is of global concern.
"Although China's birthrate is declining, its population is still so large that it needs to import nearly a quarter of the total food it consumes, that's why overseas M&A has become a critical means to improve food security and the sustainable supply of food," said Zhu Danpeng, deputy director of the Guangdong Food Safety Promotion Association, adding that "overseas mergers and acquisitions will accelerate in the future because China needs to ensure its future food security."
Up the food chain
Many observers only became aware this year that China had massive investments in Ukraine's food processing industry. In April, a sunflower crushing factory belonging to state food processing giant Cofco Group near the battle-scarred port city of Mariupol was damaged by fighting between Ukrainian forces and Russian invaders. A Cofco-owned grain terminal in Mykolaiv was threatened but ultimately escaped harm.
In the case of Ukraine, the impact of the damage was limited because Cofco in Ukraine mostly exports sunflower seeds to China while the sunflower oil is mainly exported to Europe, said one expert. Sunflower oil accounts for less than 5% of all oil consumption in China, the person said. Cofco did not respond to requests for comment.
Since 2014, Cofco has acquired a number of multinational grain corporations and now owns a stack of ports, terminals and storage facilities in core grain-producing areas around the world. With an annual overseas operation scale of over 100 million tons, the conglomerate has become the largest exporter of grain and oil from Argentina, the largest exporter of soybeans to China from Brazil, and one of the top exporters from the Black Sea region, according to its official website.
Two of the biggest acquisitions Cofco made in the past decade are the full takeovers of Hong Kong-based Nobel Agri for $2.25 billion and Dutch grain trader Nidera for $1.8 billion, which occurred in different stages between 2014 and 2016, according to a company disclosure.
Before 2014, Cofco had fully acquired Chilean winery Bisquertt Vineyard and French wine producer Chateau de Viaud, and bought an 80% stake in Australia's Tully Sugar. Between 2015 and 2016, the grain giant fully took over the grain trading division of Criddle & Co. in the U.K. and the United Shipping Agency in Romania, according to Dealogic.
"Not just Cofco, but other multinational grain corporations are growing their global operations as well. Chinese companies, including Cofco and local grain companies, have accelerated their international M&A in the past few years because they are more oriented to Chinese demand, which is a huge market, so they are more oriented to commercial interests," said Hu Bingchuan, a researcher from the Institute of Rural Development at Chinese Academy of Social Sciences.
"Even without the Ukraine war," Hu said, "the global food trade is [becoming] increasingly concentrated because only more concentration leads to more efficiency.
"China's international mergers and acquisitions will undoubtedly run into a number of issues, however, as a result of the fact that many business interests are currently being politicized."
China's investments along the food supply chain are setting off political alarm bells. Earlier in August, an American senator proposed legislation to prohibit foreign nationals associated with a list of governments including China's from purchasing farmland in the United States after an American subsidiary of a privately owned Chinese company acquired 300 acres (121.4 hectares) of farmland in North Dakota.
The purchase, initially celebrated as an opportunity for the small town of Grand Forks, sparked a political backlash partly because the land was located near a military base. Similar political heat sparked by land acquisitions has led Chinese companies over the past few years to focus less on land and more on infrastructure as they are sensitive to their actions being labeled "land grabs."
Rather than a centrally directed push aimed at grabbing resources, Chinese investments are being made in an ad hoc manner, argues Deborah Brautigam, director of the China Africa Research Initiative at the Johns Hopkins University Paul H. Nitze School of Advanced International Studies in Washington D.C. In her book, "Will Africa Feed China?" she writes about how Chinese investments -- especially around the time of the global food crisis in 2008 -- were wrongly labeled "land grabs," propagating the idea that China wanted to grow food abroad and ship it back home.
Instead, she argues, companies were concerned with the business potential of producing food in regions where it is in demand. "They thought that [if they] could do that cheaply and efficiently, they could corner the market or certainly make a profit."
Going out
U.S. sanctions on Russia and the possibility of extending sanctions on the Chinese technology sector have exacerbated lurking paranoia in Beijing about relying on foreign food suppliers. In 1950, the United States imposed a 21-year trade embargo on China in retaliation for its intervention in the Korean War.
"Since the founding of the PRC, ensuring food security for the entire population has been a super high priority for top leadership," said Even Pay, associate director of Agriculture at Trivium China, a policy researcher in Beijing. "It's sort of the make-or-break question for whether the party-state has political legitimacy."
The Ukraine war did not give birth to China's fears about food shortages, Pay said, but it certainly accelerated them.
"That was again a reminder to China that food security isn't promised," she added.
In the late 1990s, China began its "going out" strategy, offering incentives for businesses to make investments abroad, including in agriculture. The speed of investment in overseas agriculture was slow and fraught with political hurdles.
With incentives from provincial governments for "going out," Chinese regional state-owned enterprises -- including Chongqing Grain Group, Heilongjiang Beidahuang Nongken Group Corporation, Xinjiang Production and Construction Corps. -- showed interest in acquiring overseas land, though some of their investments did not materialize.
Foreign investment successes were mixed as Chinese companies struggled with local systems, and many proposed projects failed to get off the ground. Still, Chinese officials took note of how the purchases were received. "One of the biggest, clearest takeaways for policymakers back in Beijing," Pay said, "was that there's a great deal of political sensitivity that arises the moment that state-affiliated investors or state-owned companies start buying or controlling large tracts of farmland outright."
After the heated reaction to news of land acquisitions in 2008, China's leaders tried to set the record straight about the deals by telling reporters the Ministry of Agriculture was not offering incentives for companies buying or leasing land abroad.
In the years that followed, China began to encourage its agribusinesses to look abroad to compete with other major commodity traders. This push saw investment from Chinese companies in different parts of the food production process from grain storage to packaging and shipping. This also created new pathways for China to diversify its global food sources.
Cofco came to play a crucial role in this new supply chain -- securing access to major markets and setting up a transportation network to get commodities from places like Brazil and Ukraine to Asia.
China's agricultural involvement abroad is increasingly being done by entrenching state-owned enterprises like Cofco in the global commodity chain. By merging and acquiring agricultural businesses abroad, China is steadily gaining more control over the production process without controlling land outright.
In two major deals in recent years, Shuanghui International Holdings bought Smithfield Foods, an American meat producer, and ChemChina purchased Swiss agrochemical company Syngenta. China's SOEs have gained a major foothold in regions like Latin America, where Cofco and ChemChina have become leaders in their industries in Brazil and Argentina.
Over the years, international agricultural projects like these have been dubbed a "Food Silk Road," drawing a parallel to the Belt and Road Initiative characterized by a series of infrastructure projects around the world. China's investment in a new global food chain includes agritech and biotech projects producing crops like hybrid rice and wheat. Major state-owned agricultural businesses as well as regional SOEs and private companies have all played a part.
"The strategy has shifted from investing in farmland or leasing farmland to building up the Chinese presence in the global food supply chain," said Zhang Hongzhou, a research fellow at Nanyang Technological University in Singapore. With other countries in the world also relying on global food markets to secure supplies, Zhang says the Chinese started to see these investments as strategic. "They believe it is a much better way of safeguarding China's food."
Although China has been looking outward for agricultural investments for the past decade, it has consistently also stressed the idea of self-reliance, something Russia's war in Ukraine has amplified.
Chinese President Xi Jinping for the first time called food security, including grain security, a prerequisite for national security in the country's five-year plan through 2025. In emphasizing the need to protect Chinese farmland from being used for nonagricultural purposes, he set a production goal of 650 million tons of grain a year.
"Where the investment really is going in terms of agriculture is domestic," said Rebecca Nadin, director of the global risks and resilience team at ODI, a global affairs think tank based in London. "If China wants to have a diversified food supply, really what [it's] saying is it would like to be energy sufficient, food sufficient. That's the ultimate dream."
China has increased its efforts to clean up domestic farmland by reforming rural land rights and investing in water-saving technologies. As part of its self-sufficiency push, the Chinese government has also invested in the development of "future foods" like plant-based eggs and meat grown from animal cells. President Xi in 2020 also launched the second of two nationwide campaigns against food waste.
The success of China's agricultural sector is important not just for the country's domestic food security but also for food supply around the globe. "China must meet its own requirements by a big percentage," said Shenggen Fan, dean of the Academy of Global Food Economics and Policy in China. "Large import [numbers are] not going to be good for China. It's also not going to be good for the global market."
Indeed, China's food security fears, its heavy reliance on imports and its practice of stockpiling global grain supplies -- which exacerbates shortages and distorts prices -- could create problems for other countries. Cofco, for example, runs one of China's largest food stockpiling bases, at the port of Dalian, in the northeastern part of the country. The facility stores beans and grains gathered from home and abroad in 310 huge silos.
China is maintaining its food stockpiles at a "historically high level," Qin Yuyun, head of grain reserves at the National Food and Strategic Reserves Administration, told reporters last November. "Our wheat stockpiles can meet demand for one and a half years. There is no problem whatsoever about the supply of food."
By 2023, the U.S. Department of Agriculture estimates that China, with 20% of the world's population, will have 65% of the world's corn and 53% of the world's wheat, although estimates of the country's corn stocks vary. Experts say these stockpiles are one of the factors driving up prices. "Hoarding by China is one reason for rising prices," said Akio Shibata, president of the Natural Resource Research Institute in Tochigi Prefecture, north of Tokyo, "China continues to hold more than half of the global grain stock. That hasn't changed."
Global food insecurity has been slowly growing over the years, even before the coronavirus and Ukraine war. According to a report from the United Nations published in July, 828 million people were estimated to be food insecure in 2021.
If China purchases goods like grain in mass from the open market it could push global prices up further and make it harder for poor countries to source these commodities. Fan said the Ukraine war has been a turning point for China and other countries about the need to rethink their food systems. "I think it's a wake-up call for everybody," he said. "Food, nutrition and grains are global issues."
But attaining self-sufficiency in grain production is no easy task as ecology rapidly changes and urbanization makes a greater impact. New and erratic weather patterns have led to problems with pests and diseases and a decline in biodiversity, making it harder for environments in China to adapt to climate change.
To deal with the increase in pests, farmers are using more pesticides, which is worsening soil pollution. China's soil is already polluted with high levels of contaminants due to industrial waste and sewage irrigation. Industries like mining have contributed to soil degradation, which has caused large areas of land to become unfarmable.
According to a briefing from China's Ministry of Natural Resources last year, 13% of China's land by the end of 2019 was suitable for farming, 6% less than a decade earlier. In addition, an increased prevalence of floods, droughts and heat waves has made the growing seasons less predictable and less stable.
With farms in different areas facing their own unique risks, local and central governments struggle to come up with ways to help them adapt, said Li Zhao, senior researcher at Greenpeace East Asia. "There's no simple and universal adaptation strategy for all the agriculture areas because the different regions confront quite different types of challenges."
Agricultural technology has become a key component of China's adaptation strategy. China's five-year-plan encourages things like genetically modified seeds to boost production. Although climate change has been mentioned in national policies for more than a decade, Li said solutions to the problems are only recently being put into practice. "Development of agricultural adaptation science and technology is just starting."
But despite its promotion of homegrown foods, domestic realities have forced China to continue looking outward to meet its needs. In addition to investing in technology at home, China is promoting the benefits of agricultural technology abroad to increase food system efficiency and encourage development.
Despite some political pushback, China will continue to invest in agriculture abroad to increase global production, said Pay from Trivium China. "It's in China's interest for everybody to keep shipping the food out, which means that it's in China's interest for countries to be more food secure."