Lao villagers told to vacate their farms by month's end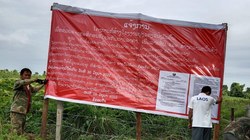 A Lao soldier and another man erect a sign saying that a cassava processing plant will be built on farmland used by villagers in southern Laos' Champassak province, Aug. 11, 2022.
RFA | 25 August 2022
Lao villagers told to vacate their farms by month's end

About 100 families from two villages in Champassak province in southern Laos were forced to give up 190 hectares (470 acres) of farmland to a company that will build a cassava processing plant after Lao soldiers threatened them if they did not comply, a local said.
The families from Phialat and Khanlai villages in Bachieng Chareunsouk district said AIDC Trading Company, Ltd., offered them much less than what their rice fields are worth after Lao soldiers fenced off the territory on June 9. The soldiers later erected a sign saying that the company had been granted a concession to build the plant, and that residents should stop planting rice and move out before construction began in September.
This project is a joint investment between Lao-owned AIDC Trading and the Champassak Army Corps, and is supported by the country's Ministry of National Defense. The parties signed an agreement for the project on Feb. 17.
"They [soldiers] threatened them, saying they would plow up and destroy all the crops if the villagers did not agree," said a resident who declined to be named so as not to anger authorities.
"They [the company] offered small compensation, but the villagers don't need it because they always have used their land for planting crops to make money to feed their families," he added. "The money [payments] would be gone later. They treated the villagers unfairly."
A company representative offered to pay the villagers 6.7 million kip (U.S. $434) per hectare for crops, and 25 million-30 million kip (U.S. $1,619-1,942) for the land, he said.
"It's too low, and the villages will not accept it because the land in these areas are worth at least 50 million-80 million kip (U.S. $3,237-5,180) per hectare," he said.
Development projects in Laos often have led to accusations that the land was taken without proper compensation for the original owners. Villagers affected by land grabs are often afraid to speak out of fear of retaliation by government officials.
Thirty families accepted the offer, believing that if they did not, they might get nothing, the resident said.
They also sought to avoid a conflict with authorities over the issue, he said.
Families who refused the offer say that they just want their land back, because the payments promised would not be enough to purchase land elsewhere, the source said.
Some villagers worry that the company and the authorities will take their land without paying them anything.
"They will say it is state land," he said.
The villagers who lost land do not have titles to the property because land is owned by the state in Laos. But they do pay taxes annually to be able to grow crops to feed their families.
The residents said they have asked provincial authorities for help, but nothing has been done.
An official from Champassak's Department of Agriculture and Forestry, told RFA that the land was granted to AIDC Trading in a concession. He declined to provide more information.
"We don't know anything about this problem," he said about the compensation matter. "Mostly, [the land] was given away in a concession, so the company has taken all of it."
A company official told RFA that the concession for building a cassava processing plant on land from the two villages was granted based on Lao government laws and regulations for development projects that create jobs and income for communities.
The official, who declined to give his name, said the company was not aware of any requests from the villagers for more compensation, but that if there was a problem, the government would have to deal with it.
"We operate according to rules and regulations," he said. "We follow the state guidelines, so whatever they [the government] want us to do, we do it."
If the villagers do not move off the land, the company will begin construction in some areas to catch up to deadlines for processing cassava and creating jobs and income for the communities, the official said.
AIDC Trading has been involved in many joint investment projects with the Defense Ministry in Champassak province, including another cassava processing plant in a different area that has a production capacity of 450 tons per day.
Translated by Sidney Khotpanya for RFA Lao. Written in English by Roseanne Gerin.