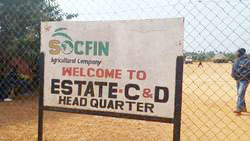 Politico Sierra Leone | 24 August 2022
Town Chief remanded over theft at SOCFIN
By Mabinty M. Kamara
The Town Chief of Henai Village in Malen Chiefdom, Chief Murana Koroma, has been remanded at the Pujehun Correctional Centre in Southern Sierra Leone after he was accused of stealing palm kernel from the plantation of SOCFIN Agricultural Company.
The town chief was arraigned before Magistrate Joseph Toby in Pujehun yesterday along with three others, including a SOCFIN security guard to answer to a charge of Larceny.
57 jerry cans of processed palm oil allegedly discovered in the homes of the accused persons during a police search were among exhibits presented in court.
In a verified social media post, the Member of Parliament for the area noted that he had received calls from residents of the village appealing to the government for the release of their town chief.
Hon. Shiaka Musa Sama said "I have received several complaints from Malen Chiefdom about increasing security harassment of peaceful citizens, who are arrested or brutalized on the slightest suspicion. I want to use this opportunity to appeal to His Excellency President Julius Maada Bio for his immediate intervention".
There has been a long-standing impasse between the company and a section of the local people in its operational community in Malen Chiefdom over a disagreement in the acquisition of the lands they are operating on.
Chief Murana Koroma and his co-accused are due in court again today.