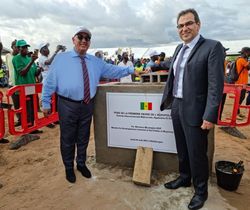 Panafrican Visions | 10 August 2022
Agricultiva, Mitrelli Group's agriculture subsidiary, to launch Ground-breaking AGROPOLE WEST Project in Senegal
The project aims to develop local agriculture and agroindustry in the area and provide greater agricultural employment utilizing Israeli agricultural models which can be replicated in other regions and countries
The project will provide direct employment for more than 3,000 people and will contribute to ensuring food security and self-sustainable production
Senegal's Minister of Industrial Development, Small and Middle size industries, Mr Moustapha Diop, announced today the launch of the Agropole West Project (AGROPOLE WEST), one of the flagship projects of Senegal's Vision 2035 Emerging Senegal Plan (PSE). To bring this vision to life, the government is working in partnership with Agricultiva, Mitrelli Group's agriculture subsidiary.
The project will be located across three municipalities, Malicounda, Nguéniène and Sandiara, 85 kilometers southeast of the capital Dakar. The Agropole aims to significantly increase food production and agricultural employment and provide agro-industrial logistics, support services and post-harvesting for all local agricultural activities. It is a comprehensive solution for agricultural development that will have a long-term impact on farming in the area and the wellbeing of the residents.
The Agropole will have a significant economic and social impact. It will lead to a large increase in income for the population in the three municipalities, creating 3,000 direct jobs and 8,000 indirect jobs, increasing the local area's self-sufficiency and Senegal's national food security. It will provide education and modern agricultural training for the farming communities (for example the use of brackish saline water and modern sheep production) empowering communities through knowledge transfer.
Ultimately, the project will affect and benefit hundreds of thousands of people.
The expert teams from Agricultiva conducted a thorough preliminary assessment survey of the climate and soils to define the most appropriate local production and process.
The final project will cover 1,160 Ha and will be equipped with advanced technologies. The Agropole West will include three agricultural development and training centers with open fields crops, different types of farm activities (egg, dairy, sheep) and logistics centers. In addition, the Agropole will have private farming areas and an allocated zone for nomad cattle herdsmen including veterinary health and vaccination facilities and feed supply. To complete the value chain, the Agro-industry Center (AIC) will serve as the main supply of all agricultural inputs, initial processing and marketing of all products, training and extension services to all the farmers in the area.
This is a ground-breaking Israeli model that can be replicated in other regions and countries. The Agropole will integrate the challenges of agricultural production, irrigation, agricultural mechanization, marketing and development of agricultural products on site, while taking into account the provision of basic social services.
Haim Taib, Founder and President of Mitrelli Group praised the leadership and commitment of the State to develop local agriculture and food security in a sustainable way: "Today, we come together to celebrate a major step forward in realizing H.E. Macky Sall's vision for the dynamism of agriculture and the restoration of Senegal's food sovereignty."
ABOUT AGRICULTIVA
Agricultiva is a subsidiary of Mitrelli Group revolutionizing the world of agriculture. Their innovative technologies advance food security with an array of new sustainable agriculture and livestock farming techniques.
Agricultiva uses the Sustainable Development Goals (SDGs) to guide its work, with the aim of reducing hunger and improving the quality of life of communities around the world. By promoting sustainable economic growth, Agricultiva works to level the playing field, reduce inequality and create new and exciting opportunities.
It strives to provide the countries where it operates with the means to achieve long-term food security through the transmission of knowledge, experience, and advanced technologies.
About Mitrelli Group
Mitrelli Group is an international group of subsidiaries that devise and implement holistic infrastructure development projects for African nations in various fields: Water and Energy supply and solutions, Agriculture, Health, Education, Environmental protection and more.
The group cooperates with public and private entities to significantly impact on African economic prosperity and quality of life, reflecting on the United Nations' Sustainable Development Goals (SDGs).
Mitrelli's tailor-made sustainable models combine innovative technologies, advanced know-how, knowledge transfer and professional training, empowering people, communities and nations to shape their future.
With over 2,300 employees worldwide, Mitrelli currently operates mega-projects in Angola, Côte D'Ivoire, Senegal, Mozambique, and beyond.