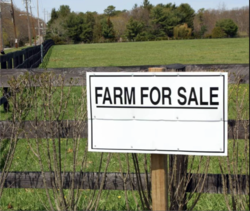 Farm Online | 4 August 2022
Huge foreign farmland investor fee hike stirs Labor agenda unease
By Andrew Marshall
Dismayed rural property marketers want Canberra to divert some of the windfall from foreign investment application fees into supporting farm sector needs, such as agricultural education.
The agribusiness sector is also uneasy about offshore reaction to the new federal government's foreign investment priorities after it suddenly doubled application fees for overseas buyers.
Foreign investors in rural property now pay up to $1 million in fees when applying to buy farmland or commercial agribusiness assets.
New federal Treasurer Jim Chalmers' fee hike apparently came without being flagged or discussed with investors or marketing agencies.
Mr Chalmers insisted the increase was part of Labor's pre-election policy, however rural marketers were caught by surprise and most see the move as a blatant grab for cash.
RELATED READING
Ag education plea from ACC's Anthony Lee
Rates up but global slowdown, energy costs hurt ag more
Are there jobs on your farm for pensioners if rules change?
The Treasurer said the size of the national budget deficit justified higher fees which would ensure the cost of monitoring and regulating foreign investment transactions was not borne by taxpayers.
Advertisement
Ad
The new fees, which began this month, are will generate about $455m this financial year.
They cover the Foreign Investment Review Board's examination and approval processes for all acquisitions and takeovers by offshore buyers.
Penalties for non-compliance with Australian foreign investment laws have also doubled.
Going up
The lowest applicable fee now rises from $2000 to $4000 for land purchases worth less than $75,000, while the new upper limit will be $1.04m for agricultural land worth more than $80m, commercial business entities worth more than $2 billion and residential land worth $40m or more.
"Most foreign investment in agriculture tends to focus on operations at the bigger end of the spectrum with price tags above $20m, so fees for those purchases will cost either $370,000, $500,000, or $1m," said LAWD director, Colin Medway.
"That seems particularly hard if investors already own property here and have been subjected to several previous reviews.
"Their situation deserved more consideration."
Mr Medway fully supported FIRB keeping track of who owned Australian farmland, but said there was "a fair bit of disappointment about the message the government's new fees have sent to foreign buyers".
Questions asked
He said despite the new government acknowledging foreign investment was crucial to Australia's economic success, questions had arisen among offshore investors about whether they could anticipate more sudden changes, or sovereign risk concerns.
National Farmers Federation chief executive office, Tony Mahar, said foreign investment had been, by and large, very good for agriculture and the industry needed to foster a supportive environment to attract more capital.
"We very conscious of not increasing the barriers already in place, or unwittingly discouraging investment," he said.
Advertisement
Ad
CBRE Agribusiness managing director, David Goodfellow felt the confusion and frustration which followed the fee hike news reminded him of the previous Labor government's knee-jerk and ill-fated decision to ban live cattle exports to Indonesia in 2011.
"There appears to have been little consultation or consideration of what our overseas partners might think," he said.
Investors were querying if there was more behind the new government's decision, or if FIRB's approval processes would now be faster.
FIRB approvals can typically take about three months, or quite often more than four months, depending on the investor numbers and structures involved.
Mr Goodfellow said many people were justifiably asking what extra benefits would accompany a whopping 100 per cent jump in charges.
"The industry would like to see that extra money directed into agriculture," he said.
Advertisement
Ad
"If foreign buyers' fees were, in part, used to help expand agricultural education opportunities and upskill the industry it would be very well received - by Australians and investors from overseas.
"If the government is reaping some easy money we want to see it used well, responding to industry needs."
Mr Goodfellow noted the Treasurer had said the new government intended to ensure Australians benefited from foreign investment, and would put local interests first.
Fortunately, there was no notable indication Australia was losing its appeal with foreign buyers, and mixed messages aside, LAWD's Mr Medway doubted the higher FIRB fees would stop big deals going ahead.
"The market's certainly got more buyers than sellers at the moment," he said.
Mr Goodfellow agreed, noting despite extraordinary price rises in recent years, farmland here was still considered relatively cheap on the global market.
North American buyers continued underpinning the offshore investment trend, backed up by a growing wave of European and British interest, and more recently an uptick in Japanese inquiry.
Even Chinese buyers, who dominated the market between 2014 and 2018, with Beijing's subsidised support, were still active, but not as obvious.
In general Asian inquiry was more focussed on meat protein opportunities, while the US and Canadian preference tended towards grain and horticultural land.
"Globally there's a fairly positive investor sentiment about food production and Australia is acknowledged having the right culture in that space," Mr Goodfellow said.
"The UK free trade agreement has also renewed an investment empathy between both countries, which will strengthen as British and European investors look further afield."