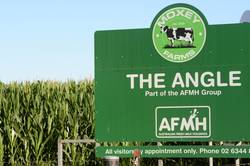 North Queensland Registry | 25 July 2022
Noumi dairy farm shares now worth $30m as New Hope confirms bid
By Andrew Marshall
Chinese agribusiness giant, New Hope Group, has moved to buy itself a comfortable majority share of the big Australian Fresh Milk Holdings dairy farming business.
New Hope is offering to pay almost $30 million to add the 9.4 per cent portion of AFMH which is currently held by milk processor and nutritional products business, Noumi.
Noumi had expected to sell its foundation shareholding in the thriving seven-year-old dairy business for $1.40 a share to the NSW-based Leppington Pastoral Company, having originally flagged its sale plans to any potential investor last November.
However, New Hope's NewAustralia subsidiary has now upped the stakes, officially offering $1.45, which would make the deal worth $29.7m.
Like Noumi and Leppington, New Hope is one of the four foundation shareholders in the farming business, which milks about 6200 cows in NSW and Victoria, supplying 180 million litres annually to Noumi and other dairy processors, Bega Cheese and the A2 Milk Company.
NewAustralia, currently holds a slight majority stake of 39.08pc in AFMH, just ahead of Leppington's 37.9pc.
The Moxey family, whose modern open stall-styled dairy business near Forbes in the NSW Central West provided the foundation for the AFMH model, owns 13.62pc.
Noumi, which itself is also largely owned by Leppington Pastoral's Perich family, has asked its shareholders to approve its exit from AFMH next month to help it pay a court settlement with US almond processing group Blue Diamond Growers.
Noumi has confirmed New Hope's latest irrevocable, non-conditional and binding offer, saying it now expected the sale price would be "at least $1.45 a share".
There was no indication if Leppington would, in turn, lift its own price to outbid NewAustralia, although the Perich family is known to have greatly valued the AFMH business.
The Perich and Moxey families worked closely in the early 2000s to explore and develop the big scale venture's options before bringing New Hope and Noumi into the structure.
Noumi, formerly known as Freedom Foods, said its independent board directors, who are not aligned to the Perich family or AFMH businesses, would continue discussions with all AFMH shareholders to efficiently complete its share sale.
A statement issued to the Australian Securities Exchange said the dairy and plant-based food company's extraordinary general meeting on August 17 was seeking shareholder approval to sell some or all of Noumi Operations shares in AFMH to Leppington Pastoral, but shareholder support for the sale did not necessarily mean all or part of the share stake would actually go to Leppington.
If New Hope's bid is accepted the Chinese giant will own just under half AFMH.
New Hope Group has invested in the food supply chain in Australia since the early 2000s.
Founded by four brothers selling poultry meat in 1982, it became China's biggest privately owned business in 1995 and last year ranked 390th in Fortune Magazine's biggest companies globally.
It is one of China's largest suppliers of meat, eggs and milk with 135,000 staff, international assets worth $64 billion and sales of about $51b last year.