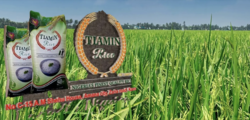 Daily Nigerian | 16 December 2021
Tiamin establishes N18billion mega rice farm in Bauchi

By Mustapha Buhari
Tiamin Rice Limited has established an N18 billion rice farm in Udubo, Gamawa local government area of Bauchi state.
The Managing Director, Tiamin Rice Limited, Aminu Ahmed, disclosed this during the foundation laying of two blocks of six class rooms at Begu village of Gamawa LGA on Tuesday.
He said the farm is the largest modern farm in Nigeria with ten thousand hectares with a projection to produce 120,000 metric tons of rice per annum and other farm produce like maize.
He added that the land was fully acquired through the Bauchi state government after payment of premium charges.
The MD pointed out that the construction of the classrooms is part of the corporate social responsibility of the company to the community.
Mr Ahmed appreciated Governor Bala Mohammed of Bauchi State, Katagum Emirate and District head of Udubo for their support and assistance towards making the project a reality.
The Senior Special Assistant to the Bauchi State Governor on Empowerment, Khalid Barau, lauded Tiamin Rice for its commitment to corporate responsibility.
"Even at the peak of Covit-19 pandemic, the company donated over 4,000 bags of rice to the Bauchi state government to cushion the effect of Coronavirus.
"The effort of Tiamin Rice in the state are numerous. In this particular project, over 2,000 people will be employed.
"The construction of two blocks of classroom and veterinary clinic for the benefit the people of the area is another laudable efforts worthy of emulation," Mr Barau said.
At a courtesy call on Aminu Malami, the district head of Udubo, the MD said the farm would employ over 1,000 youths from Udubo town as workers and would be trained in modern farming techniques by professionals from Bangladesh.
In his remark, Mr Malami commended the Tiamin Rice boss for siting the large farm project in Udubo town.
He maintained that the community and entire people of the state would no doubt benefit from the project.
Mr Malami called on community to take ownership of the project for the overall development of the area.