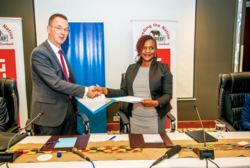 From left to right: Carlos Katsuya, IFC's Senior Country Manager for Zambia and Faith Mukutu, Chief Executive Officer, Zambeef Products PLC.
Farmers Review Africa | 19 July 2022
IFC and Zambeef partner to boost food security, strengthen agribusiness in Zambia
IFC and Zambeef Products PLC, one of the region's leading agribusiness companies, are joining forces to boost food security and strengthen Zambia's agricultural sector to create jobs and help fight poverty.
IFC will invest lend up to K570 million (US$35 million) in to Zambeef to support the company's three-year plan to expand its food production and processing capacities, and enable it to source more key inputs, such as wheat, dairy, and animal feed ingredients from local suppliers. Zambeef will use the funds to upgrade its feed mill, animal housing, purchase new equipment and develop 1,000 hectares of irrigation land, among other activities.
The project is expected to improve Zambeef's value chain, which will result in the creation of almost 1,400 new jobs, expand the tax revenue and support small-scale farmers and small and medium-sized businesses. It will also increase access to high quality and affordable protein foods.
"Throughout its history Zambeef has grown with the Zambian people, providing jobs, livelihoods and world-class shopping for our customers by adding value to local produce. This latest support from IFC is part of our $100 million investment strategy to expand that even further," said Faith Mukutu, Chief Executive Officer, Zambeef Products PLC.

The agricultural sector plays an important role in Zambia's economy, contributing almost half of all employment. However, agriculture, forestry and fishing contribute only 3 percent of GDP. This presents an opportunity to significantly expand the sector's contribution to economic growth in Zambia.
"Agribusiness is a key driver of economic growth and essential to ensure food security," said Carlos Katsuya, IFC's Senior Country Manager for Zambia. "IFC's investment in Zambeef will continue to help develop and diversify this key sector, create thousands of jobs and provide quality, affordable food to Zambian consumers, while also expanding access to best practices and finance for the sector in the region."
The investment will contribute to climate mitigation by supporting efforts to improve Zambeef's energy and fuel efficiency and reduce more than 14,000 metric tons of greenhouse gas emissions every year. IFC will also provide advisory services to help Zambeef set up a comprehensive carbon assessment planning system, which will accelerate longer-term climate-smart initiatives to combat climate change.
The project will enable Zambeef to introduce a new health and biosecurity management system across its animal production chain. This will facilitate easier trade and allow for the safe transfer of live animals and products to prevent entry of diseases that could be circulating in domestic or regional markets.
IFC's investment in Zambeef includes support from the International Development Association's Private Sector Window (IDA-PSW) Local Currency Facility. The project aligns with IFC's strategic approach to agribusiness, which focuses on enhancing food security, boosting inclusive growth and shared prosperity, and making sustainability a business driver.