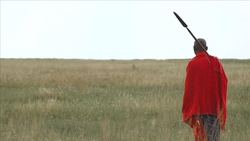 Andalou Agency 13.07.2022

Indigenous groups in Tanzania become victims of land grabbing
by Kizito Makoye
Indigenous groups in Tanzania face an uphill battle to secure land rights amid weakening customary tenure systems, making them vulnerable to land grabbing by government backed-investors looking for wider commercial interests.
Across Tanzania, indigenous people like semi-nomadic Maasai herders and the Hadzabe have repeatedly suffered from historic injustices as powerful investors grab the lands and territories they depend on for their livelihood, pushing them to the edge of survival.
"My home was completely burnt by the police. I have nowhere to live. My children disappeared in the bush, and as we speak, I don't know where they are," said Jesica Murani, a resident of Ngorongoro in the northern Arusha region, where Tanzanian authorities mounted a brutal campaign to evict the distinctive ethnic group of the Maasai, provoking widespread international condemnation.
The 43-year-old cattle herder said she feels she has been kept away from her traditional religion of spirits and away from her ancestors, and she has since been wandering to avoid reprisals.
"I have lived all my life here. There's no other place I can call home. I feel like a refugee in my own country," she added, visibly shaken.
Although the right of indigenous people to use land is protected by Tanzania's laws, human rights campaigners said the ethnic groups are increasingly struggling to secure their territories, which are falling into the hands of powerful loggers, miners, and trophy hunters.
In Tanzania, the land is public property held by the president as a trustee on behalf of the people. Its registration, however, is often a complicated process riddled with corruption and mismanagement, according to Transparency International.
Flouting law
Although foreign companies are required by law to obtain land through the Tanzania Investment Centre, an independent government agency, activists say some of them have reportedly sneaked into the country and bribed local leaders to get access to community land.
In northern Tanzania, thousands of Maasai herders, whose way of life depends on cattle rearing, are being removed from their ancestral lands as authorities try to protect critical wildlife habitats.
In sub-Saharan Africa, where governments routinely back foreign investors in agribusiness, tourism, and trophy hunting projects, observers say indigenous rights are crushed and they lose huge tracts of land.
In June this year, a 1,500-square-kilometer (579-square-mile) parcel of land in the village of Loliondo was abruptly notified as a game-controlled area by the government without adhering to required legal procedures, paving the way for the eviction of thousands of Maasai herders.
The move has provoked fierce criticism, with legal experts saying that forced evictions violate national and international law.
In an interview with Anadolu Agency, Issa Shivji, professor emeritus of the School of Law at the University of Dar es Salaam, criticized the move to evict the Maasai from their ancestral land in Loliondo and the Ngorongoro Conservation Area in favor of wildlife habitat protection and allowing foreign tourism and hunting companies to operate in the area.
"Evicting people from their land -- which is essentially their heritage and means of livelihood -- simply to protect wildlife is unacceptable," Shivji said.
Telling it all
In a compelling open letter to Tanzanian President Samia Hassan, Shivji said the assertion that all land in Tanzania is public property and that no one owns the land has been taken out of context.
"Land is not public property, nor is it the president's property or government property," he stressed.
According to him, the land belongs to those with titled deeds or communities occupying land under customary law and traditions, including indigenous communities such as Maasai pastoralists.
"Taking away customary rights to land without fair compensation is not allowed by the constitution," he said.
Concerning the raging dispute in Ngorongoro and Loliondo, Shivji said the land that pastoral communities occupy there cannot be acquired by the state without following legal procedures laid down in the country's land legislation of 1999.
"Voluntary or forced eviction of indigenous people from their areas is illegal, violates human rights, and is against the law," he said.
Turning blind eye
Speaking with Anadolu Agency, Emmanuel Sulle, a researcher at the Institute for Poverty, Land and Agrarian Studies in Cape Town, South Africa, said indigenous people are increasingly at risk from incursions by other groups including large-scale land acquisition for economic development and biodiversity conservation.
Sulle said although Tanzania is a signatory to the UN Declaration on the Rights of Indigenous People, the rights of this group are not sufficiently recognized in the country.
According to Sulle, land rights held under customary tenure are recognized and respected by Tanzania's laws, although the situation on the ground is proving otherwise.
"Evidence indicates that during the implementation of large-scale investments, the rights of rural communities over land and other resources have not been fully respected," he said.
According to him, indigenous communities have often received little or no compensation, and in many cases, investors have failed to honor their promises such as creating jobs or improving social services.
While keeping village land in a formal register is key for securing community land, experts say it can put communities on a collision course with investors.
"In places where village land is formalized to establish wildlife management areas or a large-scale agricultural investment, the interests of powerful actors are often prioritized over those of local communities," Sulle said.