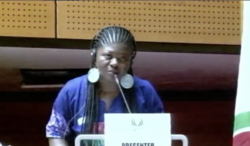 Rita Uwaka, FOE AFrica's Forest and Biodiversity Programme Coordinator, speaking to the ECOWAS Parliament.
Leadership | 20 June 2022
ECOWAS urged to stop multinationals' violation of community rights

by Innocent Odoh

A group dedicated to the protection of the rights of communities in West Africa, Friends of the Earth (FoE) Africa has called on the ECOWAS Parliament to expedite action against some multinational agro-commodity coorporations that exploit local plantation farmers, violating their rights and forcefully taking their lands.
FoE Africa, an Environmental Justice Organisation, made this call when it made a presentation at the Parliament at the ongoing First Ordinary Session of the regional Legislature in Abuja on Saturday.
Coordinator, Forest and Biodiversity Programme of the organisation, Rita Uwaka, who led FoE's delegation to the Parliament, alleged that multinational companies, especially that of oil palm came on the pretext of developing the communities but ended up forcefully taking their lands and exploiting them.
She said that the people were subdued by the companies, adding that the situation is worsened by the connivance of the local authorities who are allegedly taking bribes to expand the interest of the agrocommodity companies against their own people.
"There are more cases of labour exploitation and workers' rights violation as a result of the operation of these agro-commodity companies.
"We are seeing workers, including pregnant women being ferried, transported in open trucks with accidents and death.