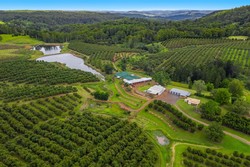 IPE Real Assets | 14 June 2022
Gunn Agri buys 6,000ha land for CEFC, Kempen-backed farmland fund
By Florence Chong
Australian farmland manager Gunn Agri Partners has acquired 6,000 hectares of land for its Transforming Farming Platform.
The land in the Liverpool Plain, which was previously proposed for a coal mine, has become available following an agreement in 2021 between the NSW government and Chinese company Shenhua Watermark Coal, to return its exploration licence after the approval to mine was withdrawn.
The agreement allowed the property to be returned to agricultural use and created significant natural capital assets, including the formation of Koala habitat conservation sites now managed by the NSW state government.
"The Liverpool Plains transaction is a prime example of the execution of our strategy," said Gunn Agri's portfolio manager for the platform, Bradley Wheaton.
Wheaton said integrating agricultural and natural capital management practices to generate market-linked returns was at the forefront of institutional investing in agriculture.
The Transforming Farming Platform is backed by the Australian government-owned clean energy finance corporation (CEFC) and Dutch asset manager Kempen.
The platform invests in underperforming small to medium farms to lift productivity and optimise land use by integrating row crops, grazing, carbon sequestration, biodiversity conservation and other natural capital assets at an institutional investment scale.
CEFC executive director Rory Lonergan said: "We can already see the advantages of this integrated farming model, which has the potential to deliver energy efficiency improvements to farms as well as optimise production, soil carbon, biodiversity and other environmental outcomes.
"This is a great demonstration of how a focussed approach on regenerative farming practices can deliver a positive outcome for farmers, agriculture, emissions reduction and local landscapes."
A CEFC spokesperson said the green bank was an active financier to agribusiness, and it has invested in other funds, including Macquarie funds.