BBC| 23 May 2022
Palm oil firms depriving tribes of millions of dollars
By Muhammad Irham, Astudestra Ajengrastri and Aghnia Adzkia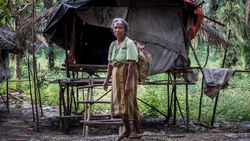 Siti Maninah makes a living from picking up fruitlets that drop to the ground
Buy something in a supermarket and there's a good chance it will contain palm oil. Follow it back through the supply chain and eventually you'll find an oil palm tree, likely in Indonesia. But the companies that sell it to major firms like Johnson & Johnson, Kellogg's and Mondelēz are depriving indigenous communities of potentially millions of dollars of income, a joint BBC investigation has found.
Mat Yadi traces the path of the river, his spear ready to strike. But today, like most days, he doesn't catch anything.
"Before there were lots of pigs, deer, antelope and hedgehogs," he says. "Now there's hardly anything alive."
He's an Orang Rimba - one of the last nomadic tribes in Indonesia. For generations they have lived from the jungle on the island of Sumatra - harvesting rubber as well as hunting and gathering fruits.
In the 1990s, a palm oil company arrived in their remote home of Tebing Tinggi with promises of wealth and development.
It would take control of the community's ancestral land and in return, according to the Orang Rimba, they would get more than half of it back, planted with oil palms, a wonder crop in rising demand across the globe. It would be a win-win, as the tribe would sell the fruit they harvested to the company.

Over 25 years the oil palms grew tall and the bright-orange fruit flooded into the company's mill, producing millions of dollars-worth of edible oil for its ultimate owner, the Salim Group, bought by manufacturers of products like Cadbury's chocolate, Pop-Tarts and Crunchy Nut Clusters.
But Mat Yadi never received the smallholdings he says his tribe were promised.
Today his family lives in a makeshift hut inside a plantation.
"Nothing was returned to us. They took everything," he says.
Like many other Orang Rimba, elder Siti Maninah scrapes a living picking up fruitlets that fall to the ground when the oil palms are harvested.
If she is lucky, she will gather enough to buy a few ounces of rice and some vegetables to feed her family for the day. "It's enough," she says. "But it's not much."
"This is just one example - it's happening everywhere," says Daniel Johan, an Indonesian MP who oversees the agricultural and forestry sector, who has acted on behalf of the tribe. "The corporations are greedy."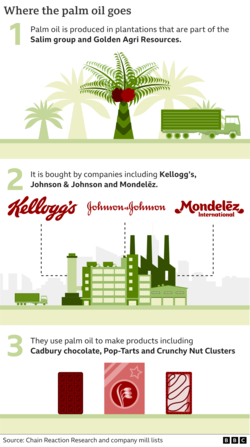 Vast tracts of the world's most biodiverse forests have been cleared for palm oil plantations. On the once jungle-covered Indonesian islands of Borneo and Sumatra, plantations now stretch for miles on end.
The trade-off was the promise of economic development. In order to gain local support and access to government financing, companies often promised to share their plantation with villagers, in plots known as "plasma". In 2007, it became a legal requirement for companies to give a fifth of any new plantation to communities.
Where the scheme worked, it helped lift rural communities out of poverty, giving them their own stake in an industry worth more than $50bn each year globally. But a steady drumbeat of allegations emerged that companies had reneged on promises - and legal obligations - to provide plasma.
By analysing government figures, the investigation found companies have failed to provide more than 100,000 hectares - around the size of Los Angeles - of legally-required plasma in Borneo's Central Kalimantan province alone.
Using conservative figures for the profits available from palm oil, we estimated this has deprived communities of an estimated $90m each year. The province accounts for just a fifth of Indonesia's corporate-run oil palm plantations.
Analysis of Ministry of Agriculture data suggests the picture is similar across other major palm oil-producing provinces, and the losses suffered across Indonesia by communities owed plasma could stretch into the hundreds of millions of dollars each year.
The scale of the problem is not only visible in official data.
Our team created a database of companies that have been accused of reneging on promises or failing to meet legal obligations to share their plantations with communities.
This revealed that there have been protests driven by grievances over plasma every month for the last six years, on average. But the state can be swift and decisive in suppressing protests, which are often violently shut down.
In 2015, in a deal brokered by local politicians, the Salim Group signed a new written commitment promising to provide plasma to the Orang Rimba.
But by January 2017, it had still not happened. By then the tribe had been waiting two decades.
More than 40 were arrested and assaulted by the police, villagers told us. "Without being questioned, we were beaten bloody," one man said. Seven were convicted of vandalism and sentenced to 18 months in prison.
Indonesia police turned down our request for a response.
"All the resistance they've mounted, sometimes even sacrificing their lives, and still there is no resolution," says Daniel Johan, who visited Tebing Tinggi soon after the protest with other lawmakers. "It means the system is failing."
After the protest, the Salim Group was urged to return the Orang Rimba's ancestral land by a parliamentary commission, but five years on, the tribe are still waiting.
The Salim Group and its subsidiary that controls the plantation declined to be interviewed.
When communities complain of a failure to meet promises, the government relies largely on mediation, but an academic study found that just 14% of mediation negotiations lead to an agreement that is implemented.
Samsul Kamar, the head of a plantation office in Riau, Indonesia's biggest palm oil-producing province, says he fields a new complaint about plasma "almost every week," with only a handful of the 77 companies under his watch providing enough.
Still, like many of his counterparts, he has never gone further than issuing a warning.
Most large consumer goods firms have promised to root-out "exploitation" of people from their supply chains.
But we identified 13 major firms including Colgate-Palmolive and Reckitt that have sourced palm oil from producers alleged to have withheld plasma, or profits from plasma, from communities over the past six years.
Johnson & Johnson and Kellogg's both buy from the Salim Group, which owns the plantation on the Orang Rimba land.
In response to our investigation, the firms asserted they required their suppliers to comply with the law. But we found many have supply chain connections to companies that have been publicly outed for failing to comply with plasma regulations - including by Indonesian government officials.
Johnson & Johnson, Kellogg's and Mondelēz have all sourced palm oil from a plantation in Borneo that was temporarily shut down in February for failing to meet its legal obligations for more than a decade.
In a rare example of the government acting decisively in a plasma case, politician Jaya Samaya Monong stationed police to stop trucks leaving the plantation.
"Maybe if there's no firm action that could harm them, they think they can ignore it," he says.
Johnson & Johnson said they "take these allegations very seriously" and had initiated their grievance process. Kellogg's said it would investigate the allegations and "coordinate with our suppliers to determine next steps". Mondelēz, who own Cadbury's, said it had contacted experts "to better understand the issue and how we might address [it] in future with further public commitments".
Reckitt wrote that the findings "suggest potential systemic problems" that "require further investigation and coordinated action by various public and private stakeholders to address".
While Colgate-Palmolive stated that the company would develop a process to check its suppliers were providing sufficient plasma.
The conglomerate behind the plantation in Borneo is Golden Agri-Resources, Indonesia's biggest palm oil producer, with plantations sprawling across half a million hectares of land.
The company admits that it has not met its legal obligations to provide plasma. The firm said it was committed to doing so, but this remains "a work in progress".
They said they're hoping to begin planting plasma next year in their subsidiary in Borneo that was shut down by a local politician.
Golden Agri-Resources and other companies we wrote to said it remained a challenge for them to access enough land for plasma schemes.
But Jaya, the politician from Borneo, said he had told the conglomerate he wanted the company to share its own estate land.
"I don't want to hear any more excuses," he said. "Because it's simple: plasma is supposed to be built in tandem with the main plantation. Why is there a main plantation but no plasma plantation?"
Global shipments of palm oil from Indonesia resume on Monday, after the government lifted a global export ban on the edible oil.
It banned exports late last month in an attempt to control rising domestic prices and secure local supply.
The companies behind the country's palm oil boom have seen their profits soar this year as global prices reached record highs.
Indonesia's super rich list is already stacked with palm oil billionaires. The Widjaja family, who control Golden Agri-Resources, stand second place in Forbes' rich list for Indonesia; Anthoni Salim, who is the CEO of the Salim Group, sits one below in third place.
But for the Orang Rimba, the wait for their cut of the fortune goes on.
Under the palm trees, elder Cilin sings a folk song. The lyrics mean "our heart is full if our grandchildren are healthy," she explains.
"So that our grandchildren can truly live again, we want our ancestral land returned to us," she says. "That's all we want."