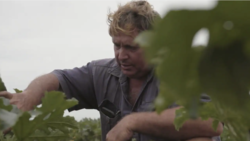 Trevor Cross tends to his vegatables at Cross Family Farms in Bundaberg, Queensland.
SBS | 19 Apr 2022
Get big or get out: Trying to survive in Australia's agriculture industry
Australia's farming sector is in the middle of a boom, with many farming operations enjoying good returns from increased production and higher prices.
According to the Department of Agriculture, the value of farming production in Australia is set to reach a record $81 billion in 2021-22, up $12m from 2020-21.
But the profits are now less likely to go to intergenerational farmers than to large agribusiness operations.
Families are leaving the land. Young people are moving away from rural areas.
Farms are no longer being passed on from generation to generation.
Ian Robinson, a retired farmer, is seeing the changes.
"A lot of the farms are sold on. Sold to, in today's world, investors," Ian tells The Feed.
"They don't want to farm. They want to buy the farm and then resell it in a couple of years to make a big profit."
Graph showing the number of farms decreasing over the past few decades.
Nationally, prices of rural property are up 20 per cent, but the total number of farms has been decreasing for decades.
Over the past two decades the number of Australian farms has consistently fallen, largely due to consolidation. In 2000, there were 128,305 farms in Australia. In 2020, that figure was closer to 89,400 - and it's looking like that number is set to decline further with estimates from ANZ Bank projecting another 30 per cent drop by 2050.
In Ian's case, a cancer diagnosis forced him to sell his cane farm. Now, after recovering from his illness, the decision to sell is weighing on his mind.
He says if he had the chance again he'd "never sell it".
"You learn a lot. Real estate agents and people in business, they will not tell you the pitfalls. You either learn them or you get walked over."
Trevor stands beside his pumpkin patch.
Trevor stands beside his pumpkin patch.
'Once in a generation boom'
Will McLay, Director - Rural Manager at property valuers Herron Todd White, says the price of rural properties is increasing - and it's more than just a boom.
"Some of the rural land increases have been anywhere between 100 per cent and 300 per cent over the last 10 years," Will says.
"I'd even go as far as calling it a once-in-a-generation boom."
While the boom means locals can't buy in, it's the reason Trevor Cross has managed to keep his farm, near Bundaberg in Queensland, afloat.
"We first started with one farm years ago, and then we bought the neighbour, and the neighbour after that.
"Over 25 years, we basically bought out 25 different farmers just to become viable."
Growing vegetables is Trevor's passion, but he doesn't see young people share the same interest.
He puts this down to the difficulty of breaking into the sector, with the high cost of running a farm only turning over a modest profit.
Record-high fuel, fertiliser, and labour costs add to the strain.
Ian Robinson.
Ian Robinson sold his farm after being diagnosed with cancer. It's a decision he regrets.
"If you were a small farmer, you'd find it very hard to do business," he said, standing in his warehouse next to a conveyor belt.
"You have to put out big volumes to make any money because it's only a couple dollars a box profit, if a profit.
"There aren't too many ma and pa farmers left anymore because the cost of doing business is too high."
Greg Quinn, partner, food and agribusiness at Pricewaterhouse Coopers Australia, is a champion of modern farming practices.
"The upsides of operating as a larger scale agribusiness are obviously around efficiencies, how you manage your costs, how you farm, how you adapt technology and create more margin for your product," he says.
"People sit there and say, I'm a bit concerned about foreign investment or we're losing control of the farms, but at the end of the day, a rising tide floats all ships."
Trevor is thankful for rising land prices, which are driven partly by institutional investment.
A vehicle spraying crops on a farm
Farms are expanding to improve efficiency and cost of production.
"We're lucky that the prices have gone up because that's the only reason I think a lot of us are still here ... Then you can lend against your value."
Surveying Trevor's property via drone is the only real way to grasp the enormous scale of his operations.
It stands in direct contrast to Joe Spena's property, a small pocket farmer who sells his produce solely to the local market on weekends.
"This bit of land is me. It's my farm. What I grow in it is what my ancestors grew in the past, " Joe says.
Joe speaks proudly of his Italian heritage. He mentions he sends seeds from his crops to his mother overseas who cultivates crops in her hometown in Italy.
"If I say, get a heart attack tomorrow, this is owned by my wife and my kids."
"Not like these other blokes, they can't talk because they are millions of dollars in debt. They're doing it harder than everybody else, the big farmer."
Trevor ends his conversation with The Feed by commenting on the lifestyle of the modern farmer.
"Personally, I think everyone in the industry is actually tired."
At the Shalom Markets in Bundaberg, Joe Spena is selling the citrus fruits that he picked overnight. A handful of coins is exchanged with produce and banter.
"I will never be rich. I'll never be a millionaire doing this. We live and we live healthy."