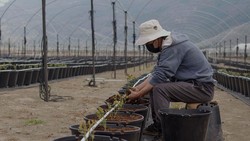 Aviation Analysis | 17 April 2022
Ecuadorean Blueberry Investment Fund

By Jeffrey Clark

Nobis announced the progress of growing blueberries for the first "Ecuadorian Fruits and Vegetables Export Investment Fund" to local and foreign investors. In the first phase, 10 hectares were planted in the canton of Batat. The first crop will be marketed in the coming months. The meeting was attended by representatives of Sembrador Capital and Fideval, two investment fund managers active in the Chilean and Ecuadorean markets. The meeting was chaired by Jose Antonio Ponce, CEO of Nobis. He was assisted by the Agricultural Export Business Unit team at the Holding Company.
The competitive advantages of the cultivated area, as well as the status of crops and progress made, were highlighted. Entrepreneurs and investors showed great interest and provided rich feedback. After harvest, the fruit will initially be sold domestically, and then will gradually be exported to the United States, Asia and Europe.
The varieties used have uniformly good quality, high yield, large calibration and sweet and sour taste. "Investments in the agricultural export sector in Ecuador provide many opportunities, because the land is fertile, the climate is favorable, the geographical location is ideal for many profitable crops, and there is an offer of qualified labor for this type of economic activity," said Jose Antonio Pons.
Horticulture has aroused the interest of both private and institutional investors. "Good job has been done. The Nobis team has been able to understand the ideas and the process very well and the results are already clear," said Jose Fernandez, CEO of Sembrador Capital.
See also 1.5 million tiles removed: awareness is growing, but the effect is still limited
Nobis announces that this is the first of many investment mechanisms that it will establish to attract large capital and generate a positive investment cycle with an impact on the national economy.