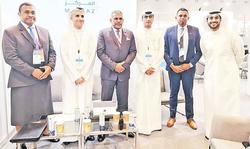 Minister for Commerce, Trade, Tourism and Transport, Faiyaz Koya (third from left), with key business representatives from the Markaz Group, Saudi Fund for Development, OYO Group and the Elite Agro LLC, in Dubai, United Arab Emirates (UAE). Picture: SUPPLIED
Fiji Times | 1 April 2022
Investors show interest in Fiji
Abishek Chand
Key international businesses such as the Markaz Group, Saudi Fund for Development, OYO Group and the Elite Agro LLC have shown interest in investing in Fiji.
According to a statement, Minister for Commerce, Trade, Tourism and Transport, Faiyaz Koya held discussions with the Markaz Group, which is a Kuwait based company, in areas such as asset management, investment banking, real estate management, to name a few.
"The Markaz Group has shown interest in agriculture, tourism, pharmaceuticals, minerals, and infrastructure development and they want to bring to Fiji a scoping mission," he said.
Discussions were also said to be held with the OYO Group, which specialise in empowering entrepreneurs and small businesses in the areas of tourist accommodations.
The meeting focused on leveraging technology to increase competitiveness and efficiency in the hospitality sector.
The Saudi Fund for Development (SFD), a Government agency which finances development projects highlighted Fiji's climate leadership and sustainable development aspirations.
This was said to include strengthening partnership with the Fijian Government on projects related to climate change, clean energy, and resilient infrastructure.
The SFD was also said to be a co-financier of the Japan International Cooperation Agency, which had contributed on-going developments in the Pacific. "Further discussions will be held with SFD together with the Ministry of Economy on the key areas of development needs," said Mr Koya.
He concluded the meetings with Elite Agro LLC which was a leading agriculture company with large-scale integrated farming operations engaged in growing, sourcing, importing and marketing agro-products.
"During the meeting, we highlighted the strategic position Fiji provides, as a hub of the region, to Elite Agro, in terms of growing their position in the Southern Hemisphere," he said.
"These platforms provide great opportunities to market Fiji and Fijian made brands in this part of the world. And there are opportunities in investments, joint ventures, public private partnerships and tourism.
"Being here in Dubai, and at Expo 2020, has paved the way for several possibilities for businesses of all sizes to network, co-create and diversify to smart, sustainable and resilient businesses. And we're glad we're here to be a part of it."
Mr Koya said these investments had the potential to further strengthen Fiji's position as a regional hub, introduce new technology and ideas and create jobs for Fijians.
He was in Dubai to attend the culmination of the Expo 2020 Dubai and related investment events in collaboration with Investment Fiji.