21-2-2022, Antena África Europa Fe-Justicia Madrid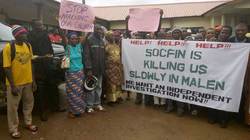 Protesta contra SOCFIN en Sierra Leona
Graves acusaciones planean sobre el Grupo Socfin, en el que el Grupo Bolloré tiene una participación del 39%. Socfin, que explota plantaciones de caucho y aceite de palma en diez países de África y Asia, tiene mala reputación: las poblaciones locales denuncian el acaparamiento de tierras y otros métodos despiadados en lugares donde operan sus filiales. Como ejemplo, testigos presenciales identificaron a las fuerzas de seguridad de Okomu Oil Palm Plantation Plc, filial de Socfin, junto a miembros del ejército como autores del incendio de la aldea nigeriana de Ijaw-Gbene, en mayo de 2020.
El Grupo Bolloré también ha sido acusado de corrupción y prácticas ilegales en la obtención de concesiones portuarias en África, escribe el Instituto Oakland, en su informe «Haciendo negocios con el Grupo Bolloré» («Doing business with the Bolloré Group»). El 26 de febrero de 2021, el Grupo Bolloré aceptó un acuerdo con la fiscalía y una multa de 12 millones de euros en relación con las acusaciones de corrupción en Togo. El juez instructor del tribunal insistió en la gravedad de los cargos y en juzgar a los altos ejecutivos bajo cargos penales.
A pesar de estas alegaciones, varias organizaciones de las Naciones Unidas recurren al Grupo Bolloré como proveedor de servicios. En particular, el Programa Mundial de Alimentos, el Programa de Desarrollo PNUD y UNICEF. Gracias a los contratos, el grupo gana 50 millones de dólares al año en concepto de logística y otros servicios, revela el Instituto Oakland.
El 24 de mayo de 2021, 40 organizaciones de 16 países pidieron a la ONU que pusiera fin a todas las relaciones comerciales con el Grupo Bolloré y sus filiales. La ONU no ha respondido a la petición, ni a la reciente carta del Instituto Oakland, del 11 de noviembre de 2021.
Sólo la presión pública puede convencer a la ONU de hacer lo correcto y abandonar sus contratos con el Grupo Bolloré.