RFA| 4 January 2022
Lao villagers refuse to cede land for Chinese-owned banana farm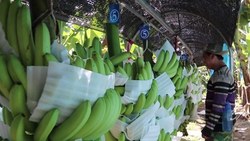 Villagers in southern Laos' Saravane province are refusing to hand over community land to a planned Chinese banana farm, saying if they lose their land they will have no way to feed their families, Lao sources say.
The farm for which the Chinese firm — identified by the Lao name Jayching — is seeking permission from provincial authorities, would take over 100 hectares of rice field now farmed by 40 families in the province's Viengkham village.
Villager residents say they fear that government authorities will soon grant the firm a concession for the land despite the impact on those living there, one villager told RFA's Lao Service this week.
"If party, state or other high-level authorities take this land away, we villagers will have no way to earn a living. We will refuse to give up our land even if we die. We have no other place to go," RFA's source said, speaking on condition of anonymity for security reasons.
Residents of a nearby village targeted earlier by the Chinese company had also resisted encroachment, but had seen their land taken anyway, a source in the second village said, also speaking on condition his name not be used.
"We had already planted rice and corn on our land, but when the Chinese company got the land, they destroyed all of our crops," he said.
Locally operated Chinese banana farms pollute rivers and other water sources with chemicals and pesticides, making workers and villagers sick, he said. And in some areas, villagers can't use water from the river for cooking or drinking.
Viengkham villagers told RFA that provincial and district authorities had urged them after a Dec. 30 visit to hand over their land to the Chinese firm, saying they were told the land will be divided into two zones, only one for the Chinese company's commercial use.
"Villagers can grow rice in an agricultural zone, but in the commercial zone the Chinese company can grow bananas for export," one source said.
Villagers doubt the deal will hold, though, noting that land already taken in a village nearby, where villagers paid taxes but held no title to the land, had been seized by authorities and given to the Chinese company with little compensation paid.
Banana farming for the Chinese market is a major source of employment in rural Laos, with hundreds of hectares of planted land employing Lao villagers and other workers in nurseries, planting, and harvesting, researchers say. But illnesses and deaths have long been reported among Lao workers exposed to chemicals on foreign-operated banana farms.
From January to September 2021, the value of exports to China and Thailand from Chinese banana farms in Laos totaled nearly $200 million, a value greater than from any other crop grown for export from the country, according to an Oct. 14, 2021 report in the Vientiane Times.