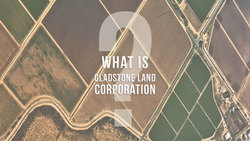 Global AgInvesting | 8 December 2021
Gladstone acquires California pistachio orchard for $88 million; portfolio now valued at $1.5 billion
By Lynda Kiernan-Stone
We all know that Gladstone has been executing deals left, right, and center lately, but this one is big. Marking the company's seventh deal since August, Gladstone has acquired 2,635 gross acres of farmland, including 1,776 acres planted in pistachios, near Lost Hills, California, for $88 million.
As part of the transaction, Gladstone has entered into a 10-year, triple-net lease agreement on the property with the seller.
"We value our tenants as much as the properties in our portfolio," said Bill Reiman, executive vice president, Gladstone Land. "We are excited to enter into a lease and begin a relationship with an excellent and established farmer in the region."
Pistachios (along with blueberries) have been a targeted crop for Gladstone.
Gladstone made its first pistachio acquisition in 2016 when it acquired a 453-acre property in Fresno, California, planted in trees ranging from five to 19 years of age, for $15.5 million. However, this deal follows major pistachio land deals completed by the company last year.
In August 2019 the company acquired nearly 1,000 gross acres of farmland in Coalinga, California, for $33 million of which 911 acres were planted in mature pistachio trees. The second part of the deal was completed in November when Gladstone spent another $37 million to acquire 1,100 gross acres of farmland consisting of 1,040 acres of mature pistachio trees. In connection with both deals, RTS Agri Business and Canoas Creek Pistachios were contracted to run the operations.
In September of last year Gladstone acquired 2,515 gross acres of farmland in Fresno County, California, for $31.8 million of which 619 acres are planted in mature pistachio orchards, and another 1,896 acres are open farmland, including 1,273 acres that are certified organic.
One month later, in October 2020, Gladstone announced it had acquired 801 acres of farmland in the same county of which 757 acres are planted in pistachios, for another $31.8 million.
Most recently, in October of this year, the company announced it had acquired 1,284 gross acres of farmland, including more than 1,200 acres of planted (partially organic) pistachio and almond orchards, in Kern County California.
The company also announced that the deal included 19,670 acre-feet of stored water, equal to 6.4 billion gallons, located within the Semitropic Water Storage District water bank for a total sum of approximately $43 million.
Commenting on this latest pistachio orchard acquisition, Gladstone Managing Director Tony Marci said, "We are very pleased to add these mature pistachio trees to our portfolio. The trees are planted in soils and a climate that are well-suited to pistachios, which is evident in the excellent yield history of the orchard."
The addition of this asset brings Gladstone's portfolio to 163 farms and water rights valued at $1.5 billion.
All told, Gladstone now holds 111,000 acres in 15 different U.S. states, and 45,000 acre-feet of banked water in California, growing a variety of permanent and annual row crops including almonds, apples, figs, lemons, olives, pistachios, cherries, blueberries, grapes, vegetables and berries.
"The acquisition of this pistachio orchard adds to our existing permanent crop farmland and is another good, long-term investment for us," said David Gladstone, president and CEO, Gladstone Land. "We have had a strong year in 2021 and look forward to another good year in 2022."