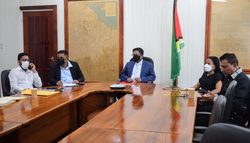 Finance Minister Dr. Ashni Singh (center) joined by Agriculture Minister Zulfikar Mustapha (left) and Minister of Tourism, Industry and Commerce Oneidge Walrond (right)
Newsroom Guyana | Nov 15, 2021
Leading agriculture company from UAE eyes investment in Guyana
By Editor
See full statement from the Ministry of Finance below:
Today hosted a virtual follow-up meeting between Elite Agro LLC and Guyana's Minister of Agriculture, Hon. Zulfikar Mustapha and Minister of Tourism, Industry and Commerce, Oneidge Walrond, as well as other interested stakeholders from the agriculture sector in Guyana.
Elite Agro LLC is one of the UAE's leading agriculture companies having large scale integrated farming operations and is currently engaged in growing, sourcing, importing and marketing of agricultural products.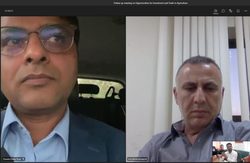 Officials from Elite Agro LLC
The meeting allowed for the discussion of opportunities for direct investment and trade in the agriculture sector in Guyana.
Also participating in the meeting were the CEO of GOINVEST, Dr. Peter R. Ramsaroop, MBA and representatives from Guyana's private sector, who presented to Elite Agro LLC possible opportunities for trade and investment in specific commodities in the agriculture sector that can be produced in Guyana on a large scale.