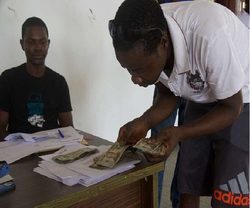 A former fieldworker of Golden Veroleum Liberia receives US$2,111.40 as severance pay after he and other workers reached a settlement with the company. (Photo: The DayLight/Harry Browne)
GNN | 24 October 2021
Former GVL workers receive settlement over illegal dismissal

by Cholo Brooks
GREENVILLE, Sinoe County – Sixteen former workers of Golden Veroleum Liberia (GVL) have received their severance benefits following a settlement with the company, one year and eight months after they filed a complaint with the Sinoe County Labor Office over their illegal dismissals.
The former employees, mainly fieldworkers, had been dismissed by the Indonesian company without benefit for allegedly participating in the May 25, 2015 riot in Butaw, according to documents from the Labor Office on the case. The disturbance left one dead and over US$7,000 of the company's properties destroyed. They were all jailed without trial and released a year later. One inmate died in prison and another shortly after their release in 2016.
"I feel happy but I am also sad because when I was in prison, my father, who used to feed and clothe me, is no longer alive to enjoy this money," said Adolphus Tarpeh, who received US$2,111.40, like all the other former workers, except a woman who received US$3,484.
In total, GVL paid them US$35,541.
"I can only sing praises to God for protecting my life… but I am not also happy because the one who is supposed to enjoy the fruit of her labor is not alive today," Felecia Karwell, who received the money for her mother Beatrice Koon, a former GVL worker, who died in 2018.
The other workers include: Sunday Okusu Sackor, Vincent Koon, Otis Chea, Franklin Duaryenneh, Luton Snohtee, Edwin Palay, Obie Karbah, Josephus Weagbah, Rufus Tiawroh, Titus Teah, Fred Henry and Samuel Yabbah and Erick Dayklee. They worked in GVL's palm plantation in Butaw.
Jubilant former workers took selfies, shared hugs and laughter before and after the payment ceremony at the County's service center, where local government activities take place. The Heritage Partners and Associates, the law firm that represented the former workers, and the Sustainable Development Institute (SDI), which supported the ex-employees, oversaw the payments.
"This is real victory for justice," Sackor Sunny Okusu Sackor, a victim of GVL's bad labor practice said in a separate interview with this online news platform. "The payment today shows that a poor man can fight a rich man and get justice," he said after receiving US$2,111.40 as his payoffs.
SDI relished the payments. "We joined this fight because we wanted to send out a clear message of deterrence to GVL and other big concessions in this country said Sampson Williams, SDI's national program assistant. We want them to realize that it is always important to protect the rights of the people and communities who give you land to operate."
On February 18 last year, four years after their release, the onetime GVL employees filed a complaint at the labor commissioner office in Greenville, Sinoe County, claiming "constructive dismissal and unfair labor practice." The workers said they were verbally told of their dismissals and denied access to their workplaces, the case's documents show.
Following its investigation, the Labor Office in Sinoe ruled against GVL and urged the company to reinstate or negotiate with the dismissed employees but GVL rejected the report and requested a transfer of the case to Monrovia, where labor authorities intervened after it moved to a full-scale investigation. The case finally reached a conclusion after authorities at the Labor Ministry found GVL guilty and urged the company to settle with its ex-workers.
Larry Noah, a labor inspector in Sinoe, described the workers' legal victory over GVL as an important milestone in the country's quest for fair labor practice. "Our report from the investigation shows that the workers were never served letter of dismissal. It also showed that the workers were not investigated internally and found guilty of the charges brought down against them by the GVL, and all of this went contrary to the labor law of Liberia."
GVL, Liberia's largest oil palm company, holds 220,000 hectares of land in Sinoe, Maryland and Grand Kru for 65 years in a 2010 deal worth US$1.6 billion. But communities are not happy about its operation. GVL's decade and a year stay in Liberia has seen its oil palm production engulfed by issues of land-grabs , complaints of bad labor practices and reports of deforestation.