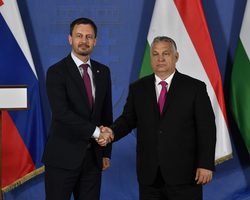 Hungary Today | 13 October 2021
Hungary backs down from Slovak land acquisition plan after fiery criticism

by Péter Cseresnyés
The Hungarian government has officially canceled its plan to set up a EUR 400 million private equity fund to purchase farmland in the Central European region, including Slovakia, after serious political tensions began developing between the two countries over the situation.
Prime Minister Viktor Orbán signed a government decree in mid-summer to establish a fund called 'Farmland Private Equity Fund' (Termőföld Magántőkealap) by the end of September, with the aim to help Hungary purchase agricultural land in the Central and Eastern European region. With the move, the government wanted to create "the basis for the international expansion of domestic agricultural enterprises."
According to the resolution, Minister of Foreign Affairs and Trade, Péter Szijjártó, was instructed to set up the EUR 400 million private equity fund (more precisely to select its fund manager) with seventy percent of its capital set to come from the Hungarian budget.
There was a lot of secrecy surrounding the decision for a long time, but as news of the Orbán administration's plans spread in the Slovakian press, the country's political leadership grew increasingly tense.
In response to this, Foreign Minister Ivan Korcok and Agriculture Minister Samuel Vlcan started to create an amendment to the relevant law, stipulating that the Slovakian Foreign Ministry must be notified in the case of land purchased by a foreign state, and that only active farmers are to be able to buy agricultural land.
Officially, the issue of land acquisition was first raised to the Orbán administration last week, when Slovakian Foreign Minister Ivan Korcok told Péter Szijjártó that Bratislava didn't want to find out through the media what the Hungarian government plans to do with the land and property it's buying in Slovakia.
Later, when Viktor Orbán was paying a visit to Mária Valéria Bridge in Esztergom that connects the two countries to mark the anniversary of its reopening, he discussed the matter with the also present Slovak PM Eduard Heger.
"Smart neighbours don't go to war with each other and aren't hostile towards each other," he said.Continue reading
Following this, Ivan Korcok announced on Tuesday that according to Péter Szijjártó, the Hungarian government has revoked its decision to acquire land in neighboring countries.
Moreover, Eduard Heger announced in a video message that Orbán had told him personally at the V4 meeting on Tuesday morning that after their talks in Esztergom they had decided to withdraw from the plan. "Our bilateral relations are important to him," the prime minister of Slovakia quoted Viktor Orbán, while also welcoming the Hungarian PM's decision.