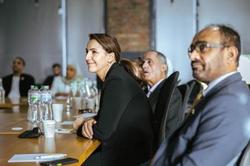 Zawya | 16 September 2021
UAE Minister of State for Food and Water Security reviews Ukraine's vast grain production and export potential during official four-day visit
New food security alliances discussed during H.E Mariam Almheiri's visit to Ukraine following updates to legislation on foreign agricultural investment
Press Release
Dubai, UAE: Ukraine's vast capacity for grain production and its ability to export cereals to the UAE was one of the main topics discussed during a visit of H.E Mariam Almheiri, UAE Minister of State for Food and Water Security, to Ukraine, with the official trip concluding yesterday (Wednesday, September 15).
Discussions focused on ways to foster new foreign agricultural investment partnerships in Ukraine – one of the most natural-resource-rich countries in the world – in order to establish competitive and sustainable agricultural investment projects.
"Ukraine is located on one of the world's most prominent arable regions," said Her Excellency Mariam Almheiri. "More than two-thirds of the country's ​​600,000 square kilometres is allocated to agriculture, and more than half of this area is actually used and suitable for agricultural production. T​these lands consist predominantly of black soil that contains a host of elements that ensure an abundant crop yield. This soil is very fertile, which makes it exceptionally suited for growth crops, especially wheat, barley, maize, sugar beet, sunflower, soybean, and rapeseed."
"This visit was strategically important as it enabled my colleagues and I to explore the opportunities for creating a strong food security partnership between Ukraine and the UAE. While Ukraine can help the UAE meet the goals under the first of its five National Food Security Strategy pillars, diversifying international sources of food and foreign agricultural investments, we in turn can share our expertise in agricultural technology, particularly Closed Environment Agriculture and aquaculture, to help Ukraine establish a viable and productive AgTech sector," said Her Excellency.
Taking in a number of Ukraine's cereal and sugar production and storage facilities during the visit, Her Excellency and the UAE delegation discussed with their Ukrainian counterpart various aspects of international grain trade and responsible foreign agricultural investment, such as logistics and supply line issues, with the conversations centred on exploring a strong food security alliance between Ukraine and the UAE.
The second day of the visit saw H.E. Almheiri and the UAE delegation meet with the Minister of Agrarian Policy and Food of Ukraine, Roman Mykolayovych Leshchenko, in the Ukrainian capital Kiev. Taking place at the Ministry's headquarters, the meeting included two presentations: one focusing on the new reforms on investing in agricultural lands being introduced in Ukraine, while the second highlighted potential investment targets for privatisation. The presentations were followed by meetings with representatives of a number of the country's major food producers, including Astarta Kyiv Agroholding, a sugar producer that has a processing capacity of 40 thousand tons of sugar beet daily; Kernel Group, the world's largest producer and exporter of sunflower oil and Agroindustrial holding Myronivsky Hliboproduct (MHP), a leader in the production, sale, and export of chicken. The delegation also had a lunch meeting with Nikolay Gorbachov, Chairman of the Ukrainian Grain Association.
Day three of the visit included a presentation by DP World on the World Logistics Passport initiative – a global, private-sector-led, initiative designed to smooth the flow of global trade – where an invitation was extended to Ukraine to join the initiative. H.E. Almheiri then met with the Ukrainian Minister of Infrastructure H.E. Oleksandr Kubrakov, with the meeting beginning with a presentation and discussions on the development of Ukrainian railway stations, before moving on to explore the prospects of establishing a strategic partnership between Ukraine National Airlines and the UAE's national carriers. Later that day, the UAE delegation travelled to the City of Boryspil, located 50 km from Kiev, for a site visit to Agroregion, an innovative farm that produces wheat, barley, corn and sunflower seeds over 45 thousand hectares.
The fourth day of the visit saw the officials take a short flight to Odessa City and an excursion to TIS Group – Ukraine's biggest port. The activity involved a visit to DPW TIS Container Terminal, a facility majority owned by Dubai Ports World, and a tour of the site's grain terminal, Neptune. The final official visit in the programme saw Her Excellency and colleagues attend Delta Wilmar, a vegetable oil extraction plant.
Accompanying Her Excellency throughout the trip were officials from the Ministry of Climate Change and Environment, Ministry of Economy, Ministry of Energy and Infrastructure and Ministry of Foreign Affairs and International Cooperation.
Representatives from the private sector and government affiliated bodies for the visit included Al Ghurair Investment, Fish Farms, Elite Agro, DP World, Al Dhahra, Emaar and the Industrial Innovation Group.