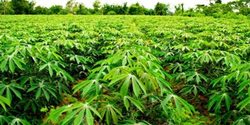 The Guardian (Nigeria) | 31 August 2021
Group gets nod to invest $14.2m in Ekiti's agro-allied industry
By Anthony Otaru, Abuja
With the Federal Government's assurance of support, all bottlenecks have been cleared for Exxess Group of companies to invest $14.2 million in large scale cassava farming and processing in Ekiti state.
The project is expected to cover about 3,600 hectares of land cultivated in addition to the establishment of a 60-tonne flour mills daily.
Financiers of the project include, U.S. Development Finance Corporation; U.S. EXIM bank; African development bank; International Finance Corporation, European Development Finance Institutions, Central Bank of Nigeria and some commercial banks.
Leader of the team, John Olajide disclosed this when he led the group on a courtesy visit to the Minister of Industry, Trade and Investment, Adeniyi Adebayo, in Abuja.
Olajide said that both local and foreign companies would benefit from their products.
He explained that over 5,350 direct jobs and 10, 950 indirect jobs are expected to be created when fully completed.
Responding, the Minister assured the group of government support for the success of the project.