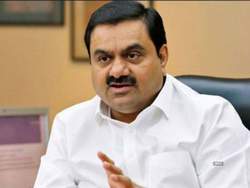 Elara India Opportunities Fund, which lawmakers suspect may be linked to Gautami Adani, was the largest foreign shareholder in Karuturi Global Ltd, owning 3.25% of the company in 2018.
The Week | July 28, 2021
4 foreign funds invested in Adani firms have history of wrong bets: Report
Three of the 4 funds are reportedly under NSDL scrutiny in India
Four Mauritius-based funds linked to Adani Group companies, including three whose accounts have been reportedly frozen by the National Securities Depository Ltd (NSDL), have a history of investing in firms that ended up defaulting or were investigated for wrongdoing. According to
a Bloomberg report
, Elara India Opportunities Fund, Cresta Fund, Albula Investment Fund and APMS Investment Fund were among the largest foreign shareholders in Winsome Diamonds and Jewellery , Sterling Biotech, Ruchi Soya Industries and Karuturi Global, companies that went bankrupt or are being investigated.
Winsome's majority owner, Jatin Mehta, was declared a willful defaulter and economic fugitive in 2018 over an unpaid loan of about $900 million. Mehta's whereabouts are unknown and India is investigating him for alleged money laundering and round-tripping. Winsome had denied the round-tripping allegations in 2014.
Similarly, Sterling Biotech's controlling shareholders--the Sandesara brothers Nitin and Chetan--fled India after defaulting on loans. They are being investigated for alleged money laundering and round-tripping.
Karuturi's land lease was canceled in 2015 by Ethiopia's Agriculture Ministry, which alleged that the company failed to adequately develop its plot. Karuturi was the world's largest rose grower at that time. While Karuturi had challenged the action and sought compensation, it was pushed into liquidation earlier this year with creditors claiming a total of Rs 18.2 billion.
Ruchi Soya entered bankruptcy and was declared a willful defaulter before Baba Ramdev's Patanjali Group bought them over.
Interestingly, all the four funds mentioned have attracted attention for parking almost all their money in companies controlled by Gautam Adani. The funds rank among the biggest shareholders in Adani group companies, ahead of prominent financial institutions like BlackRock Inc. and The Vanguard Group Inc, the report said.
Cresta has the biggest exposure to Adani companies with 99 per cent of its investments in flagship Adani Enterprises and Adani Transmission Ltd. Albula has 89.9 per cent of its holdings invested in Adani companies, while the other two funds have over 95 per cent.
Last week, Pankaj Chaudhary, minister of state for finance, informed Parliament that the Securities and Exchange Board of India (SEBI) and the Directorate of Revenue Intelligence (DRI) are probing Adani Group companies for non-compliance to rules. However, he added that neither the funds nor Adani Group companies were being investigated by the Enforcement Directorate.
A representative for the Adani group said the group cannot comment on foreign portfolio investors. "We have always been fully compliant with applicable SEBI regulations, we have made full disclosure to SEBI on specific information requests from them in the past," the representative told Bloomberg. "However, we have not received any communication or information requests recently."
The news comes in the backdrop of the stocks of Adani Group companies going on a downward spiral ever since a report by The Economic Times on NSDL freezing bank accounts of Albula Investment Fund, Cresta Fund and APMS Investment Fund, which together own over Rs 43,500 crore worth of shares in four Adani Group companies.
Citing an official, the report had said the NSDL's move could be because of insufficient disclosure of information regarding beneficial ownership as per the Prevention of Money Laundering Act (PMLA). Typically, the accounts are frozen if the clients do not take any action despite being notified.