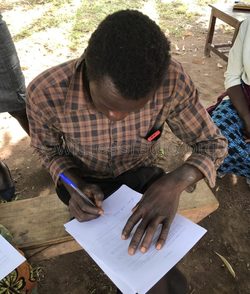 Witness Radio | 21 April 2021
After being tortured by the army, the land rights defender is charged and remanded to prison

A community land rights defender who was kidnapped from his home and tortured by Uganda People's Defense Force (UPDF) soldiers guarding Kiryandongo Sugar Limited has been arraigned before a magistrate court in Kiryandongo district and charged with threatening violence.
According to family members, Olupot James was abducted from his home on Wednesday 23rd of March 2021 at 1:00 pm local time located at Kapapula village, Nyamuntende Sub County, Kiryandongo district by a group of six (6) soldiers in UPDF uniform, allegedly severely beaten in front of his children and wife before being taken to an unknown destination.
Apparently, Olupot's family is one of several families whose homes are trapped in the middle of sugarcane plantations after their land was grabbed by Kiryandongo Sugar Limited and other multinational companies.
The available information indicates that Olupot was abducted alongside Kalisa Gregory and Emmanuel Mulanasaka, for filming the acts of torture meted on Olupot using mobile phones, but they were later abandoned along the way after their mobile phones were confiscated by captors. Kalisa and Mulanasaka are neighbors to Olupot who intervened after they had him (Olupoti) screaming.
Witness Radio – Uganda's investigations indicate that Olupot was first held in unknown places for some hours before being transferred to Kiryandongo Central Police Station.
Police records that were seen by Witness Radio – Uganda lawyers further indicate that the bleeding and limping Olupoti was illegally kept at Kiryandongo police for more than seven days without any treatment and before being taken to court.
A family member who preferred anonymity told Witness Radio – Uganda that upon learning that Olupot had been transferred to Kiryandongo Central Police Station, the family approached and pleaded with Kiryandongo district police chiefs to allow Olupoti to access treatment but all was in vain.
"Olupot's kidnap and torture are linked to his work of mobilizing communities to resist an illegal eviction by Kiryandongo Sugar Limited and other multinationals". A family member said.
While appearing before Kiryandongo Grade 1 Magistrate Court, Olupot was charged with threatening violence. A charge which carries a maximum sentence of four years imprisonment on conviction.
It's not clear who's the complainant in this case against Olupot.
He was remanded to Masindi Government Prison until May, 11th 2021.