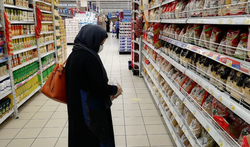 Supermarket in the Saudi capital Riyadh. (AFP/File)
Arab News | 28 March 2021
Food security is a priority
by Basil M.K. Al-Ghalayini, chairman and CEO of BMG Financial Group

As a high-growth sector, we at BMG Financial Group have been involved over the past decade in advising international and local clients on their food security investment plans. One such client was Sundrop Farms, an Australia-based developer of high-tech greenhouse facilities that grow crops using methods aimed at reducing reliance on finite natural resources. Another one was Sunridge Partners, a UK-based specialist investment group partnering with agribusiness companies to become industry leaders through sustainable growth and profitability. We also advised prominent Saudi families who are pioneers and leaders in food and agribusiness investments, both locally and internationally.
For years, food security in Saudi Arabia has been a strategic objective. It is also a key component of the Saudi Vision 2030. Almost eight years ago, Saudi Agricultural and Livestock Investment Company (SALIC) was established and would go on to become part of the Public Investment Fund (PIF) portfolio.
SALIC's objective is to contribute to agricultural and livestock production and supply for the benefit of the Kingdom. Its investment focus is on mass commodities, including wheat, barley, corn, soya beans, rice, sugar, vegetable oils, green fodder and red meat. Its mandate is to make long-term profitable investments in countries that have the agricultural capacity and a surplus of agricultural goods to be exported.
Last week, PIF transferred its ownership in local companies, including a 16.32 percent stake in Almarai Company, a 20 percent stake in the National Agricultural Development Company and a 40 percent stake in the Saudi Fisheries Company to SALIC. The transfer is aimed at leveraging synergies within PIF's food and agriculture portfolio and enabling SALIC to stimulate growth in the sector. It is worth noting that SALIC's contributions will be significant in the wake of the current pandemic, which re-emphasized the strategic importance of supporting the stability of the food supply chain.
In my opinion, food security is a priority for any nation, including Saudi Arabia, given the scarcity of water, concerns over climate change and land use, and the decline in the agricultural labor force. Hence, it is important to ramp up food production efforts in an innovative manner in the face of a projected rise in population — a population whose diet is also changing. As people become more affluent, they start eating more meat, dairy, and food that is generally richer in processed ingredients. The complexity of delivering sufficient food to any population shows why food security is a priority for all countries, whether developing or developed.