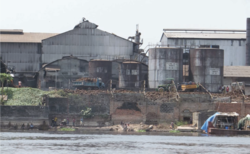 Phatisa's African Agriculture Fund was heavily invested in the scandal-plagued DR Congo oil palm plantation company
Feronia Inc
which went bankrupt in 2020.
FinDev Canada | 4 February 2021
Phatisa Food Fund 2 reaches $143 million final close from DFI commitments
4th February 2021, Montreal - A group of leading development finance institutions (DFIs) and impact investors – CDC Group, Norfund, Finnfund, FinDev Canada and BIO – announce an $82 million joint commitment to Phatisa Food Fund 2 (PFF 2 or the Fund), managed by Phatisa. PFF 2 will invest across the African food value chain, considering investments in mechanisation, inputs, poultry and meat production, food processing and manufacturing, logistics, aggregation and distribution across Sub-Saharan Africa. The investment will strengthen and increase food supply, local production and distribution across the region.
A consortium of investors, consisting of CDC, Norfund, Finnfund, FinDev Canada, and BIO committed to the Fund's final close, $30m, $20m, $15m, $10m and $7m, respectively. The Fund has reached a final close of $143m, bringing DFIs and commercial investors together to boost the supply of quality food in Sub-Saharan Africa – where an estimated 239 million people are affected by food insecurity.
The Fund, via its investment in companies in the food value chain, targets over 90,000 small-holder farmers and micro-entrepreneurs and aims to create over 2,000 permanent jobs and sustain another 10,000 jobs. The investment follows the success of Phatisa's African Agriculture Fund (AAF), which has created more than 1,800 jobs and benefitted 86,000 farmers operating in over 20 markets across the continent.
Building on AAF, Phatisa Food Fund 2 will enable small-holder farmers and micro- entrepreneurs to develop their skills, broadening access to markets and economic opportunities. The new fund will also address access to, and affordability of products among farmers and promote smart agricultural methods - enhancing crop resilience, reducing food loss and waste by 50% in the companies it finances, while increasing outputs, yields and incomes.
The investment contributes to UN Sustainable Development Goals 1 (No poverty), 2 (Zero hunger), 8 (Decent work and economic growth), 5 (Gender equality), 12 (Responsible consumption and production) and 13 (Climate action).
Phatisa Food Fund 2 also qualifies for the 2X Challenge, which seeks to support businesses that provide women in emerging economies with access to leadership opportunities, quality employment, and products and services that enhance their economic participation and inclusion.
Clarisa De Franco, Managing Director & Head of Private Equity Funds, CDC said: "It's great to see DFIs and commercial investors partnering to tackle one of Africa's most pressing challenges. Small-holder farmers account for 60% of Sub- Saharan Africa's population and the continent remains a net food importer. According to the African Development Bank (AfDB), rapidly rising net food imports are expected to grow from $35 billion in 2015 to over $110 billion by 2025. By mobilising capital and investing in the food and agriculture value chain, we can drive tremendous impact, sustain employment and improve food security across the continent, while reducing reliance on imports."
Stuart Bradley, Managing Partner, Phatisa said: "We are pleased to welcome this multinational group of investors to Phatisa Food Fund 2, a fund focused on increasing investment in the undercapitalised African agribusiness and food value chain. Development impact, without deviating from sound commercial principles, is at the heart of Phatisa's investment approach. Over the Fund's investment cycle and through its investments in talented and driven management teams, we aim to create shared value; inclusive and sustainable growth; and address social and environmental challenges impacting some of the most marginalised people in Africa."
Olav Akrawi, Project Manager in Scalable Enterprises at Norfund said: "Norfund is happy to be part of this opportunity to invest in businesses that are expected to create a large number of jobs and increased business opportunities within the food production space across Sub-Saharan Africa. The Fund's plans are aligned with Norfund's strategy, directing its focus towards companies with strong financial prospects that will contribute with economic growth and improve the value chain in the food and agri-sector."
Riikka Molander, Associate Director & Head of Funds, Finnfund said: "We are glad to participate in this fund with our fellow investors. Strengthening and increasing food supply, local production and distribution – enhancing food security and supporting small-holder farmers – is at the core of Finnfund's mission. Particularly now, in the midst of the COVID-19 pandemic, it is extremely important to generate financing for agriculture and food production in the African continent."
"Our support to Phatisa Food Fund 2 will help respond to some of the most important challenges facing Africa today," said Paulo Martelli, Chief Investment Officer of FinDev Canada. "Food insecurity is a major issue on the continent, compounded by the COVID-19 pandemic which threatens to push another 23 million African citizens into extreme poverty. Phatisa has shown what it can do to benefit small-holder farmers and the firms working with them while promoting rural livelihoods. We expect our investment in Phatisa Food Fund 2 to create sustainable benefits for many more people in Africa, as well as the companies where they work, shop, and do business with."
"With our investment in Phatisa Food Fund II", says Carole Maman, Chief Investment Officer at BIO, "We want to increase food security in Africa by supporting sustainable food production in Africa for local markets and by helping African food value chains and companies grow. To achieve this, we look to the Phatisa Food Fund 2 to provide patient investment capital as well as technical and commercial assistance."