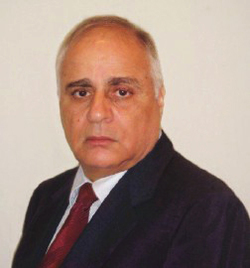 Chaim Zach
, Founder and Managing Director of Agric International Technology & Trade (Nigeria) Ltd
African Farming | 1 March 2019
Agrotop to build large-scale breeding farm in Nigeria
Agrotop, one of the leading global players in livestock turnkey projects, has announced to build a large-scale pullet and breeding farm for Agrited, Nigeria's leading supplier of poultry products
agotopThe initiative is in line with Nigeria's ambitious plan to boost its poultry and livestock sectors. (Image source: skeeze/Pixabay)
The newly built Blue Plains Farm will be located about 40 kilometres north of Ibadan next to Fiditi town, Oyo State. The breeding farm is being built on 112 ha of bushland.
Blue Plains farm will accommodate six environmental control (EC) breeder pullet houses, 12 EC producing breeder houses, three male houses, a state-of-the-art super-modern hatchery with a hatching capacity of more than two million eggs at a given time, modern EC chicks dispatch house and seven hectares of the logistic village.
Agrotop has completed the building of two EC pullet houses accommodating about 23,000 Ross 308 pullets. To complete the first phase of the development, the company will build another four EC breeder houses, professional hatchery with a Pasreform hatching system and a chicks' dispatch house.
This is the fourth poultry breeding farm built by Agrotop for Agrited. The previous ones include:
· White Plains – Breeding farm with 33,000 heavy breeders, 18,000 light breeders, a combined Emka and Pasreform hatchery with a hatching capacity of 1,632,000 eggs
· Green Plains – pullets farm with a capacity of 57,000 pullets PS birds and a 1,200 sq m grains and equipment storage warehouse
· Silver Plains – Breeding farm with capacity for 66,000 heavy breeders, 20,000 pullets and 1,200 sq m grains and animal feed storage
Added to this, Agrotop has completed other projects for Agrited in Nigeria including the Yola Project in north Nigerian. This greenfield integration project includes a hatchery and houses for broiler pullets PS, broiler breeders, layer-breeder pullets and layer breeders, as well as commercial layer pullets and commercial layers.
For Amo Farms, Agrotop built eight EC poultry houses and a slaughterhouse which runs a semi-automated line with the capability of 1,000 birds per hour and adheres to the highest European food industry standards.
--

Business Day | 8 March 2017
In line with the Federal Government effort to attain self sufficiency in poultry production in the country, Agric International Technology and Trade Nigeria Limited (AGRITED) has made a N12 billion investment in Ogun, Oyo and Adamawa states to boost local production.
AGRITED and an Israeli farm have pledged to capture 20 percent market share of the daily Nigeria chicken production by 2030 going by its move to boost poultry investments across the country. The both organisation projected that consumption of daily chicken in the country would grow to about 548,000 tons within the next six years.
Speaking exclusively with BusinessDay at one of its poultry farms located at Ajebo, off Lagos-Ibadan at the weekend, Chaim Zach, managing director of AGRITED noted that the Israeli farm had brought in most-advanced technology that would boost local poultry production.
Zach declared that AGRITED was designed to be the largest poultry farmers in Nigeria with a huge supply chain of day-old chicks to thousands of poultry farmers, and millions tons of chicken and eggs for consumption among Nigerians, saying the move was to create wealth and massive job opportunities.
He said, "We brought a high poultry technology into the country and as a matter of strategy, we are serving thousands of farms and we decided not to compete with them because most of them are still working on traditional, old system and we decided to produce raw materials for them which are the chicks.
"Also, we buy thousands of trucks and tons of grains like maize, soya beans, wheat, sorghum and other inputs in Nigeria. We are already planning our growth according to poultry consumption in the country.
Speaking on behalf of Ogun state government, the duo of Adepeju Adebajo and Bimbo Ashiru, commissioners for agriculture as well as commerce and industry respectively, noted that it is high time for the country to encouraged poultry farming to curb unnecessary imports of poultry products putting pressure on the country's balance of payment.
Adebajo said that efforts were underway to empower farmers in the state to produce grain used as inputs for poultry feeds in order to boost supply, Bimbo Ashiru, commissioner for Commerce and Industry, said government would continue to create enabling environment for investments to thrive.
Adepeju said, "We want to make Ogun state, the poultry capital of Nigeria like we did in manufacturing industry. We are helping our farmers to ensure that we increase land under cultivation, to ensure that they have access to right inputs, seeds, fertilisers and also link them up with off-takers and poultry farms like AGRITED."