BBC| 12 November 2020
The burning scar: Inside the destruction of Asia's last rainforests
By Ayomi Amindoni & Rebecca Henschke
"This is our mini market," he says, smiling. "But unlike in the city, here food and medicine are free."
Mr Kinggo is an elder in the Mandobo tribe. His ancestors have lived off these forests in Papua, Indonesia for centuries. Along with fishing and hunting, the sago starch extracted from palms growing wild here provided the community with their staple food. Their home is among the most biodiverse places on earth, and the rainforest is sacred and essential to the indigenous tribes.
Six years ago, Mr Kinggo was approached by South Korean palm oil giant Korindo, which asked him to help persuade his tribe and 10 other clans to accept just 100,000 rupiah ($8; £6) per hectare in compensation for their land. The company arrived with permits from the government and wanted a "quick transaction" with indigenous landholders, according to Mr Kinggo. And the promise of development was coupled with subtle intimidation, he said.
"The military and police came to my house, saying I had to meet with the company. They said they didn't know what would happen to me if I didn't."
When he did, they made him personal promises as well, he said. As a co-ordinator, he would receive a new house with clean water and a generator, and have his children's school fees paid.
His decision would change his community forever.
Indonesia is the world's largest exporter of palm oil, and Papua is its newest frontier. The archipelago has experienced one of the fastest rates of deforestation in the world - vast areas of forest have been cleared to make way for row upon row of oil palm tree, growing a product found in everything from shampoo to biscuits. Indonesia's palm oil exports were worth about $19bn (£14bn) last year, according to data from Gapki, the nation's palm oil association.
The rich forests in the remote province of Papua had until recently escaped relatively untouched, but the government is now rapidly opening the area to investors, vowing to bring prosperity to one of the poorest regions in the country. Korindo controls more land in Papua than any other conglomerate. The company has cleared nearly 60,000 hectares of forests inside its government-granted concessions - an area the size of Chicago or Seoul - and the company's vast plantation there is protected by state security forces.
Companies like Korindo have to clear the land in these concessions to allow them to replant new palms. Using fire to do that - the so-called "slash and burn" technique - is illegal in Indonesia due to the air pollution it causes and the high risk blazes will get out of control.
Korindo denies setting fires, saying it follows the law. A 2018 report by the leading global green timber certification body - the Forest Stewardship Council (FSC), of which Korindo is a certificate holder - concluded there was no evidence that illegal and deliberate fires were set by the company.
But according to a new investigation by the Forensic Architecture group at Goldsmiths University in London and Greenpeace International, published in conjunction with the BBC, there is evidence that indicates deliberate burning on the land during the land-clearing period. The investigation found evidence of fires on one of Korindo's concessions over a period of years in patterns consistent with deliberate use.
Forensic Architecture uses spatial and architectural analysis and advanced modelling and research techniques to investigate human rights violations and environmental destruction. "This is a robust technique that can with a high level of certainty determine if a fire is intentional or not," said senior researcher Samaneh Moafi. "This allows us to hold the large corporations - who have been setting fires systematically for years now - liable in the court," she said.
The group used satellite imagery to study the pattern of land clearing inside a Korindo concession called PT Dongin Prabhawa. They used the imagery to study the so-called "normalised burn ratio", comparing it to hotspot data in the same area - intense heat sources picked up by Nasa satellites, and put the two datasets together over the same period of time, 2011 to 2016.
"We found that the pattern, the direction and the speed with which fires had moved matched perfectly with the pattern, the speed, direction with which land clearing happened. This suggests that the fires were set intentionally," Samaneh Moafi said.
"If the fires were set from outside the concession or due to weather conditions, they would have moved with a different directionality. But in the cases that we were looking at there was a very clear directionality," she said.
Korindo turned down several BBC interview requests, but the company said in a statement that all land clearing was carried out with heavy machinery rather than fires.
It said there were many natural fires in the region due to extreme dryness, and claimed that any fires in its concessions had been started by "villagers hunting giant wild rats hiding under stacks of wood".
But locals near the concession in Papua told the BBC the company had set fires on the concessions over a period of years, during a timeframe which matched the findings of the visual investigation.
Sefnat Mahuze, a local farmer, said he saw Korindo employees collecting leftover wood, "the worthless stuff".
"They piled up long rows, maybe 100-200 metres long, and then they poured petrol over it and then lit them," he said.
Another villager, Esau Kamuyen, said the smoke from the fires "closed the world around them, shutting off the sky".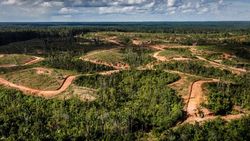 Environmental activists fear for the Papua rainforest - among the most biodiverse places in the world. Photo: Greenpeace
According to Greenpeace International, companies are rarely held to account for slash and burn - a practice that almost every year creates a smoky haze in Indonesia which can end up blanketing the entire South East Asian region, causing airports and schools to close.
A Harvard University study estimated that the worst fires in decades in 2015 were linked to more than 90,000 early deaths. The fires that year are also believed to have produced more carbon emissions in just a few months than the entire United States economy.
Many of the tribal allegations against Korindo were investigated for two years by the Forest Stewardship Council. The regulator's tree logo - found on paper products throughout the UK and Europe - is meant to tell consumers the product is sourced from ethnically and sustainable companies. The FSC report into allegations against Korindo was never published, after legal threats from the company, but the BBC obtained a copy.
The report found "evidence beyond reasonable doubt" that Korindo's palm oil operation destroyed 30,000 hectares of high conservation forest in breach of FSC regulations; that Korindo was, "on the balance of probability … supporting the violation of traditional and human rights for its own benefit"; and was "directly benefitting from the military presence to gain an unfair economic advantage" by "providing unfair compensation rates to communities".
"There was no doubt that Korindo had been in violation of our rules. That was very clear," Kim Carstensen, the FSC's executive director, told the BBC at the group's headquarters in Germany.
The report recommended unequivocally that Korindo be expelled from the body. But the recommendation was rejected by the FSC board - a move environmental groups say undermined the credibility of the organisation. A letter sent to the FSC board in August, signed by 19 local environmental groups, said the groups could no long rely on the body "to be a useful certification tool to promote forest conservation and respect for community rights and livelihoods".
Mr Carstensen, the executive director, defended the decision to allow Korindo to stay. "These things have happened, right? Is the best thing to do to say they were in breach of our values so we're not going to have anything to do with you anymore?" he said.
"The logic of the board has been, 'We want to see the improvements happen'."
Korindo strongly denied that the company was involved in any human rights violations but acknowledged there was room for improvements and said it was implementing new grievance procedures.
It said it had paid fair compensation to tribes and that it had paid an additional $8 per hectare for the loss of trees - a sum decided by the Indonesian government, which granted them the concession. The BBC tried to confirm the figure with the Indonesian government, but officials declined to comment on Korindo.
The Indonesian government maintains generally that Papua is an integral part of the nation, recognised by the international community. The province, which is half of the island of New Guinea (the other half belongs to the country of Papua New Guinea), became part of Indonesia after a controversial referendum overseen by the UN in 1969, in which just 1,063 tribal elders were selected to vote.
Since then, control over Papua's rich natural resources has become a flashpoint in a long-running, low-level separatist conflict. Papuan activists call the 1969 referendum the "act of no choice".
The Indonesian military has been accused by activist groups of gross human rights abuses in its attempts to suppress dissent in Papua and protect business interests there. Foreign observers are rarely granted access, "because there is something that the state wants to hide", according to Andreas Harsono, an Indonesian researcher with the US-based Human Rights Watch.
"They are hiding human rights abuses, environmental degradation, deforestation," he said. "And the marginalisation of indigenous people - economically, socially and politically."
In an attempt to ease tensions, Papua was granted greater autonomy in 2001, and there has been a significant increase in government funds for the region, with Jakarta vowing to bring prosperity to the people of Papua and saying it is committed to resolving past rights abuses.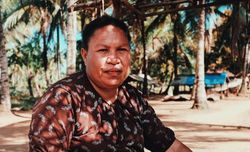 "The company didn't bring prosperity," said Elisabeth Ndiwaen. "What they did was create conflict." Photo: BBC
Derek Ndiwaen was one of those in the Mandobo tribe who, like Petrus Kinggo, took money from Korindo for their land. Derek's sister Elisabeth was away at the time, working in the city, and she didn't find out about the deal until she returned home. According to Elisabeth, Derek became embroiled in conflict with other tribes over the land deals. She believes the stress played a role in his death.
"My brother would never have sold his pride or forest before," she said, through tears. "The company didn't bring prosperity. What they did was create conflict, and my brother was the victim."
Elisabeth said that her brother was also made promises of free schooling for his children and health care for the family - promises she said were never realised.
"The forest is gone and we are living in poverty," she said. "After our forest has been sold you would think we would be living a good life. But here in 2020 we are not."
According to Elisabeth, Korindo told the community it would build good roads and provide clean water.
But residents in her village of Nakias, in the Ngguti district say life hadn't changed the way they hoped. There's no clean running water or electricity in the village. Those that can afford it use generators but fuel costs four times as much as in the capital Jakarta.
Korindo said that the company directly employs more than 10,000 people and has put $14m (£11m) into social projects in Papua, including food programmes for malnourished children and scholarships.
The company has stopped all further clearing until an assessment of high conservation and high carbon stock forests inside their concessions is carried out.
"The bigger question of what to do with the sins of the past will take a bit of time," said Kim Carstensen, the FSC chairman. "Whether it's two years, three years - that I don't know."
Elisabeth fears that nothing will make up for the destruction of the rainforest.
"When I see that our ancestral forest is all cleared, chopped down, it's heart-breaking," she said. "It should have been passed on to the next generation."
"I walk through the plantation crying, and ask myself, where are our ancestors' spirits now that our forest has been completely destroyed. And it happened under my watch."
Petrus Kinggo did receive money from Korindo, he said - about $42,000 (£32,000), equal to 17 years' pay on the provincial monthly minimum wage. And the company paid for one of his eight children's school fees until 2017. He said he did not receive a house or a generator, and the money is all gone.
"I have nothing left," he said. "Uncles, nephews, in-laws, grandchildren, brothers, sisters all took some. And then I spent what was left on my own children's education."
Thousands of hectares of the Mandobo tribe's once vast rainforest has been logged and replaced with neat rows of oil palm trees. A further 19,000 hectares now inside a Korindo concession is earmarked for clearing.
Mr Kinggo is fighting to save some of what's left. He fears future generations will have to "live off money" rather than the forest. He blames the government for not consulting with the villagers before giving the concession to Korindo and "sending them here to pressure us".
But when he walks through the forest now, he looks inside, and the money he took weighs on him.
"According to God I have sinned, I deceived 10 tribes," he said.
"The company said, 'Thank you Petrus for looking after us so well'. But in my heart I knew I had done wrong."

You can watch a film version of this story, The Burning Scar, in the UK on the BBC News Channel on the 21/22 November 2020 at 21:30 GMT and at various times this weekend on BBC World News.