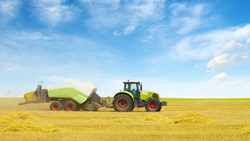 Investable Universe | 9 November 2020
Macquarie Infrastructure and Real Assets makes all-cash bid for Aussie farmland REIT

On Monday, Macquarie Infrastructure and Real Assets (MIRA), a division of Macquarie Group and one of the world's largest alternative asset managers, announced that one of its agricultural funds will seek to acquire all of the issued securities in Australian listed farmland REIT Vitalharvest.
MIRA's all-cash offer of $1.00 per unit to Vitalharvest unit holders implies an enterprise value of $300 million to the company. The offer represents an 11.8 percent premium to Vitalharvest's current adjusted net asset value of $0.894, a 27.4 percent premium to its November 6 closing unit price of $0.785, and a 29.5 percent premium to its 30-day VWAP of 0.772.
Vitalharvest (VTH) is an externally managed, publicly traded REIT that owns an investment grade portfolio of farmland in South Australia's Riverland region, New South Wales and Tasmania, along with associated water rights.
The portfolio is comprised of seven farmland assets, which are used primarily for citrus and berry production, and to Costa Group Holdings Limited, Australia's largest produce grower. Costa already leases a number of avocado farms from MIRA under 20-year lease agreements. MIRA expects Costa Group to continue operating Vitalharvest's assets in the long term.
In a statement on Monday, Costa said it "supports any outcome that provides ongoing certainty in relation to the farms Costa leases from Vitalharvest and would be comfortable in the event that MIRA's bid was successful."
In June 2020, Primewest Group—one of Australia's leading property fund managers with more than A$4.5 billion in assets under management—acquired management rights to Vitalharvest. With the acquisition, Primewest was aiming to create Australasia's leading pure-play agri-chain listed farmland REIT, with plans to acquire assets across the agricultural supply chain, in production, processing, storage and delivery and distribution.
In a statement released on Monday, MIRA said it "strongly believes the all-cash Transaction is highly compelling and in the best interests of Vitalharvest unitholders, and expects the Transaction will be well received by the Responsible Entity. MIRA looks forward to engaging constructively with the Responsible Entity to put the Transaction to unitholders as quickly as possible."
MIRA's agricultural arm is an Australian-headquartered, active asset manager, with a longstanding track record in owning and managing farmland domestically, and is one of Australia's largest diversified farmers as well as a major investor in Brazilian agriculture.