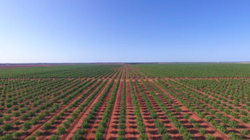 Financial Review | 11 October 2020

Harvard University to cash out of NSW almonds and cotton farms
australian-financial-review

by LARRY SCHLESINGER
The $56.5 billion Harvard University Endowment Fund is preparing to sell another chunk of its Australian almond and cotton holdings after putting the Western Rosella Farming portfolio in the NSW Riverina on the market.
The Lachlan Valley portfolio, which has an asking price of $120 million, covers about 13,652 hectares and is made up of three properties: 524-hectare Moora at Hillston, 2419-hectare Euroley at Euroley and 10,708-hectare Newmarket at Maude.
The portfolio offering follows the January sale of the Ivy League university's two other Hillston cotton and almond farms – Wyadra and Cowl Cowl – to Boston-based Hancock Agricultural Investment Group for more than $120 million, as revealed by The Australian Financial Review.
While no reason has been given for the decision to divest its Australian investments, the university fund has been actively reducing its real estate holdings over the past two years.
It will also expect a strong exit price after ASX-listed Rural Funds Group struck a deal to sell its Mooral almond orchards near Hillston to Hancock for $98 million, at a massive premium to their book value.
The diversified portfolio includes permanent plantings, such as almond orchards; approved greenfield development land, both dryland and irrigated row cropping; and livestock grazing.
The endowment fund has $US40.9 billion ($56.5 billion) of assets under management and is the biggest single contributor to Harvard University's annual operating budget.
In the 2019 financial year the endowment fund provided a distribution of $US1.9 billion – or 35 per cent of Harvard University's operating budget of $US5.5 billion.
CBRE's Danny Thomas has been appointed to sell the Western Rosella portfolio either in one line or as separate properties.
Mr Thomas said the portfolio represented an institutional scale landholding with first-class irrigation development and highly sought-after almond orchards.
"The portfolio offers an excellent agricultural offering for the region, that will be of interest to investors, both domestic and international," he said.
Moora offers a 524-hectare almond orchard with 435 hectares planted, the majority in 2017, as well as a 7145-megalitre Lower Lachlan Groundwater Entitlement.
Euroley, which lies 48 kilometres south-east of Griffith, is a newly developed almond orchard with 376 hectares planted in 2020.
It includes about 2 kilometres of Murrumbidgee River frontage, as well as about 5 kilometres of frontage to the Sturt Highway.
The largest of the three, Newmarket, has about 1281 hectares under irrigation with a further 1201 hectares approved for development as well as significant water rights.
In 2017, the Ivy League university was hoping for $50 million when it offered Newmarket, then a 17,400-hectare holding.
A Weekly Times report back then noted Newmarket Station was being developed for cotton production but fell into controversy when it dug up Aboriginal graves and illegally cleared native vegetation.
Rosella Farming was previously managed by Hillston-based Wealth Check Funds Management. However, company filings note that goFARM's Liam Lenaghan was appointed the sole Australian director in May.