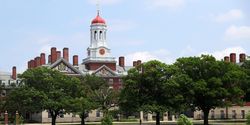 Bloomberg | 8 October 2020
Harvard spins off natural resources team, to remain partner
by Michael McDonald
Harvard University's endowment spun off its natural resources team, creating an independent entity that will manage some of the school's agriculture and food production investments.
An investment team led by Harvard Management Co.'s head of natural resources, Colin Butterfield, launched Solum Partners, the new firm said Thursday in a statement. Harvard will be a limited partner.
"Colin and his team have proven themselves to be extremely skilled investors and valuable members of HMC," N.P. "Narv" Narvekar, the endowment's chief executive officer, said in a separate letter to his staff.
Harvard "will continue to work closely with Colin and his team as both investors in their new firm, as well as advisers to us on the management and sale of remaining NR legacy assets," he said.
Harvard wrote down the value of its natural resources portfolio by more than $1 billion after Narvekar took over as CEO in 2016 and sold off a number of assets, including timberland in South America. The writedowns were part of a larger overhaul of Harvard Management that included cutting staff, selling some private equity and real estate funds, and downsizing trading operations.
Harvard was once seen as a leader among endowments in investing in timberland and farms around the world. But its natural resource portfolio came under increasing scrutiny in recent years from environmental activists as well as authorities in countries such as Brazil who scrutinized the land titles of some endowment-controlled farms.
Butterfield will serve as CEO of Solum, managing a team of 25.
"Our team sees an opportunity to generate attractive risk-adjusted returns by helping agricultural producers who need a true partner," Butterfield said in a statement.
Solum also said Wednesday that it acquired some investments that his group managed or made while at Harvard. These include avocado, olive oil, apple and soybean production assets as well as stakes in Westfalia, a global avocado distribution company, and California Olive Ranch, a U.S. extra virgin olive oil company.
Those investments were backed by affiliates of Harvard Management and American International Group Inc., Solum said.
--
Wall Street Journal | 8 October 2020
The Harvard University endowment transformed its natural resources team into an independent investment firm that will take over part of the endowment's portfolio of orchards, farms and plantations.
Harvard Management Co. and insurer American International Group Inc., or AIG, are expected to contribute some $ 200 million each as key investors to Boston's new firm, Solum Partners, people familiar with the matter said. They will also invest in a portfolio of assets the company buys from Harvard, which includes fruit orchards, soybean plantations and stakes in companies that distribute avocados and make olive oil.
The spin-out cuts the controversial natural resources portfolio from the $ 41.9 billion endowment and marks the exit of the latest group at Harvard to manage an entire asset class directly without outside fund managers. Solum is led by Colin Butterfield, a 47-year-old Brazilian who, before Harvard, managed Brazilian farmland for an investment firm of TIAA-CREF and Cosan SA.
Harvard endowment chief NP "Narv" Narvekar said last week there was still a long way to go to transform his portfolio.
This change complements the efforts of Harvard endowment chief NP "Narv" Narvekar to remake the largest endowment in the United States by dismantling the internal investor teams that were a hallmark of the Harvard endowment for years. Instead, Narvekar favored an approach of distributing the fund's assets to outside fund managers for investing. This move was a recognition of the challenges that even sophisticated institutions face in actively managing assets on their own.
"Arrived a few months before me at the end of 2016, Colin played a decisive role in the evaluation of the portfolio he inherited and its current repositioning", wrote Mr. Narvekar in an internal note from Harvard Management Thursday consulted by Wall Street. Newspaper. "It was no small feat."
Solum hopes to raise less than $ 1 billion for new bets on the agriculture industry and food production, a person familiar with the matter said. He will also advise the Harvard Endowment on the management and sale of the remaining natural resource assets it holds.
Mr. Narvekar joined the endowment in December 2016 after a series of leadership shifts and years of late performance.
In a note to the Harvard community last week announcing the endowment's 7.3% return in the fiscal year ended June, he said there was still a long way to go to transform his portfolio.
The endowment's multibillion-dollar natural resource portfolio was once the envy of the endowment world, marked by an early and lucrative gamble on New Zealand's forest lands. But Mr. Narvekar had a more bearish view there than his predecessors. Just months into his tenure, he reduced the value of the portfolio by around $ 1 billion, his biggest loss since its inception in 1997.
He said in Harvard's 2019 annual report that the endowment was overly exposed to investments in natural resources, which include emerging market assets that are more difficult to sell and value than stocks and bonds.
Mr Narvekar also said in the report that the endowment has sold more than $ 1.1 billion in natural resource assets and plans to sell more. He wrote that he was disappointed with the continued losses in the portfolio.
The portfolio has drawn Harvard into disputes, including whether the endowment disrupted local wildlife in Chile and displaced local farmers in Brazil. He also drew close scrutiny on how he was racking up water rights in drought-stricken California. Harvard recently sold most of its California vineyards, losing the water rights attached to the land, a person familiar with the matter said.
Harvard has had talks with a number of potential buyers for some of its natural resource assets in recent years.
Conversations about a spin-out came in spurts, in part because of the challenge of transferring and valuing a complex portfolio, people familiar with the matter said. The endowment also wanted to try to increase the value of certain assets through its management efforts, which take time.
The investment for AIG comes as insurers and other large investors look for alternatives to stocks and bonds to earn higher returns at a time of low interest rates. Many have flocked to private markets in recent years.
But the pandemic is making large institutions more cautious about supporting new investment firms, especially if they can't travel to meet with executives. Knowing that a large, benchmark investor is behind a new entrant could make other investors more comfortable writing checks.
--
BOSTON, Oct. 8, 2020 /PRNewswire/ -- Today, former Harvard Management Company ("HMC") executives have launched Solum Partners, an investment management firm focused on real assets in the agriculture and food production industry. Solum Partners will invest in global agriculture and food opportunities, targeting efficient, large scale agricultural production assets with potential for vertical integration in areas such as distribution and marketing.
The firm will be led by former HMC Managing Director and Head of Natural Resources, Colin Butterfield, who now serves as CEO at Solum. Its team includes more than 25 professionals, with substantial experience in the food and agriculture and investment management industries.
"Food value chains need to evolve. Farmers are facing an increasingly challenging operating environment and much more demanding consumers," said Butterfield. "We believe we are in a strong position to help producers navigate this evolution – drawing on our deep agricultural and financial know-how and focus on operational excellence."
"Our team sees an opportunity to generate attractive risk-adjusted returns by helping agricultural producers who need a true partner," added Butterfield. "We leverage our hands-on, owner-operator approach along with our deep sector expertise, experience in large scale operations, and world-class global network and asset base designed to add considerable value to our partners and our investors."
The announcement coincides with Solum's acquisition, backed by affiliates of HMC and American International Group, Inc. ("AIG"), of select investments that the team managed or made while at HMC. These include avocado, olive oil, apple, blueberry, and soybean production assets as well as stakes in Westfalia, a global avocado distribution company, and California Olive Ranch, a U.S. extra virgin olive oil company.
"Sustainable farming practices are critical to the security of the global food chain," said Doug Dachille, Chief Investment Officer of AIG. "We are supportive of opportunities that advance those endeavors."
About Solum Partners
Solum Partners invests in real assets within the agriculture and food production industry. The firm utilizes its hands-on approach and industry knowledge to enhance the value of their investments and deliver attractive risk-adjusted returns for investors. The firm's strategy is driven by a focus on strong partnerships, operational excellence, and continuous improvement, and is underpinned by a comprehensive approach to ESG.
Contact
Media
Prosek Partners, on behalf of Solum Partners
Bea Broderick
857.301.6949
Josh Clarkson
646.818.9259
Jacqueline Schofield
646.818.9100