Pusaka| 29 September 2020
Hentikan rencana Food Estate di Papua
Translation in
English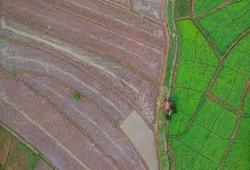 Pemerintahan Jokowi kembali merencanakan pembangunan food estate, program pengembangan lahan pangan nasional di Papua, dengan dalih untuk mengantisipasi kelangkaan dan krisis pangan akibat pandemic Covid19. Rencana ini beredar dalam WAG (WhatsApp Group) dan tersebar screenshoot dari powerpoint Dirjen Planologi Kehutanan dan Tata Lingkungan, Kementerian Lingkungan Hidup Kehutanan (KLHK) tentang Rencana Operasional Tim Lahan Food Estate Pemulihan Ekonomi Nasional (PEN) Lingkup KLHK (September 2020). Ditampilkan lokasinya berada pada kawasan hutan tersebar di Kabupaten Merauke, Mappi dan Boven Digoel, dengan luas 2.052.551 hektar.
Hasil penapisan AOI (area of interest) proyek food estate Papua yang potensial sebesar 1.697.533 hektar. Beberapa saat kemudian, beredar lagi informasi bahwa rencana pelepasan kawasan hutan pada lokasi food estate Papua hingga seluas 3.231.461 hektar, terdiri dari kawasan Hutan Lindung (HL) seluas 243.619 hektar; Hutan Produksi Terbatas (HPT) seluas 672.222 hektar; Hutan Produksi (HP) seluas 863.178 hektar; dan Hutan Produksi Konversi (HPK) seluas 1.452.442 hektar.
Proyek food estate akan menimbulkan masalah baru pada masa pandemi Covid19. Koalisi Masyarakat Sipil Tolak Food Estate di Papua dalam Siaran Pers (28/09/2020), mengingatkan bahwa rencana konversi kawasan hutan untuk lahan industri pangan bukan saja akan merusak alam, terjadi deforestasi dan akan mengorbankan keberlanjutan hidup masyarakat adat Papua. Bagi masyarakat adat Papua, hidup mereka bukan saja tergantung pada alam, tetapi hidup mereka menyatu bersama alam. Kepunahan alam berarti mengancam keberlanjutan hidup masyarakat adat Papua.
Mengenai krisis pangan, Orang Asli Papua sudah membuktikan jika mereka mampu memenuhi pangan secara mandiri, bukan karena jaminan dari negara. Masyarakat Adat sudah memiliki kerangka mengamankan wilayah adat (sumber pangan) mereka untuk kepentingan anak cucu mereka. Jadi, tidak boleh ada pemaksaan, apalagi dilakukan dengan cara kekerasan, kata Pastor Anselmus Amo, Direktur SKP Keuskupan Agung Merauke.
Aiesh Rumbekwan, Direktur Eksekutif WALHI Papua dan anggota koalisi, mengatakan proyek pengembangan food estate di Papua adalah ide lama yang sudah terbukti pernah gagal di banyak tempat di Indonesia dan bahkan di Papua sendiri, seperti mega proyek MIFEE (Merauke Integrated Food and Energy Estate) yang sangat akomodatif pada kepentingan korporasi dan komoditi komersial.
"Proyek MIFEE di Merauke yang digagas Presiden Susilo Bambang Yudhoyono tahun 2010 dan dilanjutkan Presiden Jokowi tahun 2015, yang awalnya direncanakan untuk pengembangan tanaman pangan seperti beras, jagung, kedelai dan tanaman pangan lainnya. Faktanya lain, proyek tersebut lebih banyak di dominasi industri perkebunan tanaman sawit dan Hutan Tanaman Industri (HTI). Ini menunjukkan food estate tidak berhasil di Merauke", tegas Aiesh Rumbekwan.
Kebijakan pembangunan dan investasi di Tanah Papua melahirkan sejumlah masalah yang belum terpulihkan. Orang Asli Papua menjadi korban, mengalami ketidakadilan, kesulitan memanfaatkan hasil kekayaan alam, kehilangan sumber kehidupan, hutan, tanah, tempat berburu, tempat mata pencaharian, obat-obatan tradisional dan sebagainya.
Dalam siaran pers, Koalisi Masyarakat Sipil Tolak Food Estate menyatakan menolak diulangnya kembali food estate di Papua dan meminta Presiden Jokowi menghentikan rencana pembangunan food estate di Papua.
Terkait dengan rencana konversi perubahan fungsi dan peruntukkan kawasan hutan, Koalisi mendesak Gubernur Papua, Lukas Enembe, untuk menolak rencana pemerintah pusat dan tidak mengajukan permohonan pelepasan kawasan hutan untuk tujuan food estate.
Selengkapnya Siaran Pers baca disini: Siaran Pers Koalisi Masyarakat Sipil Tolak Food Estate di Papua
Koalisi Masyarakat Sipil Tolak Food Estate di Papua, terdiri dari organisasi masyarakat sipil, yakni: Wahana Lingkungan Hidup Indonesia (WALHI) Papua, KPCK Sinode GKI di Tanah Papua, Perkumpulan Advokat HAM (PAHAM) Papua, Perkumpulan Terbatas untuk Pengkajian dan Pemberdayaan Masyarakat Adat (pt.PPMA) Papua, SKP Keuskupan Agung Merauke, Jaringan Kerja Rakyat (JERAT) Papua, Yayasan Pusaka Bentala Rakyat, SKPKC Fransiskan Papua, Konsultasi Independent Pemberdayaan Rakyat (KIPRa) Papua dan Papuan Voices Nasional.
Ank, Sept 2020